Assassin's Creed Movie Costume, Setting & Character Name Revealed
Peekaboo, Mikey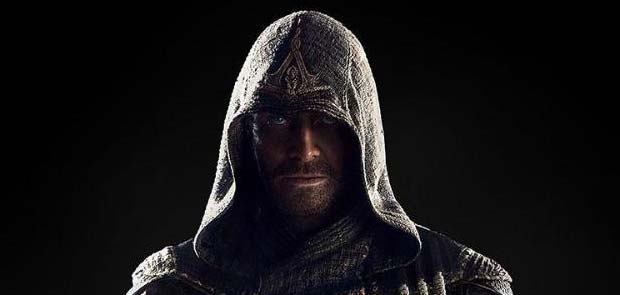 Haha, that could be anyone in there. Though if you look really closely, you can just about make out a wince of shame in his eyes. But yes, this is our very first look at Michael 'Big Boy' Fassbender in the movie adaptation of Ubisoft's jumpy-stabby Assassin's Creed series.

Here's the full image:
I dunno, 'yahoo' seems a pretty weird catchphrase for a stealthy assassin guy to me?
The costume's very dark, obv. I guess someone decided bright white looked a little silly in the flesh. It also looks like pre-rendered promotional art for a videogame, oddly.
We also now know, via a Yahoo reveal, that Fass's character will be one Callum Lynch - quite possibly a Desmond Miles analogue - and that he'll be reliving the memories of an as-yet unnamed ancestor who lived in Aguilar, in 15th Century Spain. "After gaining incredible knowledge and skills he's poised to take on the oppressive Knights Templar in the present day." It will not be based on an existing AssCreed tale.
Apparently filming begins Monday, and will take place in Spain, Malta and London. The film is set to open next December.