Assassin's Creed Odyssey Megaris: how to complete the side quests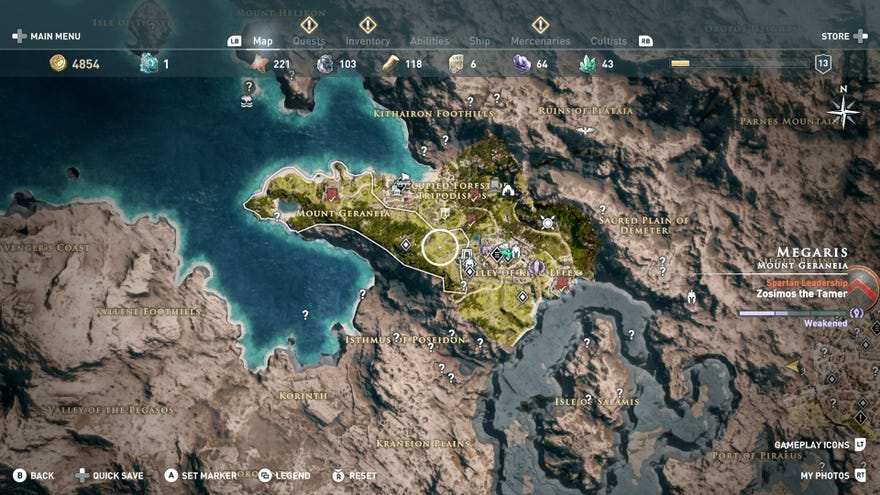 After departing the island of Kephalonia, you'll land on Megaris, which is experiencing a bit of a conflict as the Spartans have come to invade Athenian territory. There's only a few more of the quests, but they're worth doing all the same for the experience and rewards. This guide will go over the main side quests for Megaris and how to complete them.
Megaris side quests guide
If you want to explore a different region, head back to our Assassin's Creed Odyssey side quests guide for a full list of the different regions. Alternatively, there is also the Assassin's Creed Odyssey guide for everything else this massive game has to throw at you.
Another Wolf Another Day
You can accept this side quest from the message board in Pagai from an artist who is not very happy that the Spartans want to erect a statue of you. She asks you to prove yourself by killing the wolves to the south. There are a fair number of these wolves in this location, so be sure to have healing skills on your person. Once they are slain, return to the woman for your reward.
There is also another quest nearby in the docks in Pagai by your ship that can be completed by simply handing over 50 drachmae to a man who once sailed with your sea captain, but was injured during an attack from pirates. The funds will go towards building a farm.
A Family Ordeal
Provided you sent Odessa home in the previous quest, you'll find her tending to her father. She'll ask that you pick some medicinal herbs in the Valley of King Lele, which is close to the derelict Persian Trireme. You're looking for white tipped plants, which Ikaros can spot for you. Once gathered, head to the merchant to buy the mixture. You have a choice here, but it's perhaps simplest to just pay for it yourself.
Upon returning to Odessa, you'll find her farm is under attack by bandits. Make sure that neither Odessa or her father are killed. Scavenge the bodies of your fallen enemies to find a note ordering the hit on Odessa. Present your findings and the ingredients for the potion to get your reward and begin the next quest.
The True Story
Odessa wants answers. She wants to know why she was attacked and she wants concrete proof of it. Go to the Leader's House in Megaris and scout it out with Ikaros. You should see question marks appearing in the side of the house facing the Temple of Apollo. There are four items of interest to look at in two separate parts of the complex, so look carefully. Once you have the information, head back to Odessa. You have the opportunity to both seduce her and recruit her, so long as you don't accuse her of manipulating the situation.
That's all the side quests for this region. Head on back to our Assassin's Creed Odyssey side quests guide for more information about another quest-line or another region's set of side quests.