Asus ROG Strix X470F-Gaming review: A good foundation for Ryzen+
Above board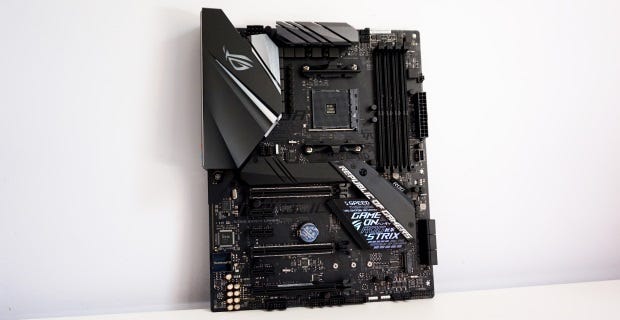 If you're considering buying one of AMD's new Ryzen+ CPUs like the Ryzen 5 2600 or Ryzen 7 2700X, then you may also want to think about getting a new X470-based AM4 motherboard to go with it. It's not strictly necessary - all of AMD's 2nd gen Ryzen processors will work with existing AM4 motherboards, whether you've got one with a high-end X370 chipset or the more entry-level A320 or B350 chipsets - but upgrading to X470 brings with it a number of advantages, such as Ryzen+ support straight out of the box as well as AMD's shiny super-fast StoreMI acceleration tech as standard.
To kick things off in the X470 department, I've got the Asus ROG Strix X470-F Gaming motherboard on test today, with more boards following shortly. Let's see whether this one from Asus is any good.

Priced at £185 / $215, the ATX-sized Asus ROG Strix X470-F Gaming definitely edges toward the upper end of the motherboard market, but it won't set you back quite as much as Asus' ROG Crosshair VII-Hero (Wi-Fi) X470 board or MSI's X470 Gaming M7 AC. Still, you can definitely see where your money's going with this one, as this arguably one of the most striking motherboards I've seen in quite some time.
Its pre-mounted input/output shield with built-in RGB lighting has a very clean, premium look about it, and Asus' Strix logo and the assorted 'gaming' words etched into its metal heat sink occasionally echo those rainbow tints when they catch the light just right. Most of the time they'll be sitting under the shadow of whatever graphics card you have installed, of course, rendering their glinting, shining surfaces null and void, but at least it gives it a bit more personality than other boards of this ilk.
You'll also find two RGB headers on the board that supports Asus' Aura Sync tech for matching your motherboard's colour scheme to other Aura-compatible components such as your graphics card, monitor or mouse and keyboard, plus another addressable RGB header for any additional LED strips you might want to install.
Looks aside, the main reason for buying the X470F-Gaming is so you can take advantage of that aforementioned X470 chipset. Previously, the X370 was the highest-specced chipset you could buy for an AMD Ryzen processor, but the X470 brings with it some shiny new features to help you get the very best out of AMD's new Ryzen+ chips.
Chief among them is AMD's StoreMI acceleration tech. You'd normally have to pay extra for this on other AM4 motherboards, but here you get it for free. You'll still need to download the software from AMD's website, mind, but this essentially lets you turn almost any SSD / HDD setup into one big jumbo drive where everything operates at SSD-level speed.
It works by automatically moving the data you use most to the SSD, while the files you rarely visit get moved to your HDD. StoreMI adapts to your PC usage over time, too, so the location of your files will change over time depending on how much you use them. You don't have to reinstall Windows or faff around with RAID configurations either. Everything just works and saves you from shelling out on large capacity SSDs. Naturally, the evolving nature of StoreMI makes it quite difficult to test scientifically, so for now I'll concentrate on how the X470F-Gaming performs without StoreMI installed.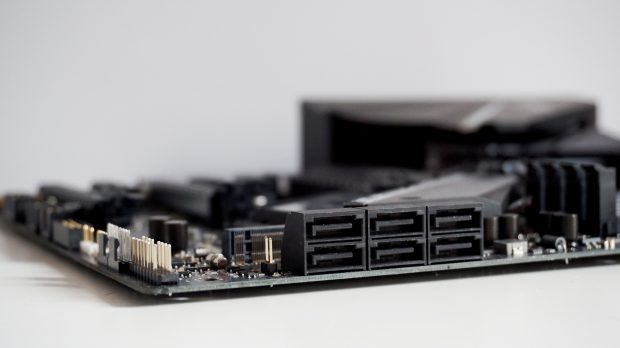 Otherwise, X470's specifications are very similar to those you'll find on X370 boards (more of which you can find out on AMD's AM4 landing page). Still, even within Asus' own product family, you'll find some stark differences. Take RAM, for example. Whereas the four DDR4 slots on the X370 version of this particular motherboard (the ROG Strix X370F-Gaming, to give its full name) max out at 3200MHz (overclocked), the X470F-Gaming lets you ramp that up to a maximum of 3466MHz. The X470F-Gaming also lets you push your RAM further if you have one of AMD's Ryzen Vega chips, too, such as the Ryzen 3 2200G or Ryzen 5 2400G - up to 3200MHz as opposed to the limit of 2400MHz on the X370F-Gaming.
Both support up to 64GB in terms of capacity, but when AMD's Ryzen chips have always traditionally performed better when paired with faster RAM, the X470F-Gaming just gives you that little bit of extra flexibility for maximum potential performance power.
In terms of expansion, you're getting pretty much the same deal as other X370 boards: two PCIe 3.0 x16 slots (running at full speed individually or x8/x8 if both are in use for multiple graphics card configurations), and each one comes with a band of steel shielding round them for extra protection against today's increasingly heavy array of graphics cards.
You also get another PCIe 2.0 x16 slot sans steel shield down the bottom that runs at x4 - handy if you happen to want to run three AMD GPUs in CrossFireX (just be aware this board only supports two Nvidia GPUs via SLI) - plus three PCIe 2.0 x1 slots.
Annoyingly, the top PCIe x1 will likely be obscured by your graphics card, so you've really only got two to play with if you want to add things like network and sound cards. It gets doubly irritating when you look back at Asus' X370F-Gaming motherboard, as that had the good sense to position it above your main PCIe x16 slot rather than below it.
The reason behind this change, however, is because the X470F-Gaming has stuck a second M.2 slot there instead, complete with its own removable heatsink to help keep your NVMe SSD running as cool, and therefore as efficiently, as possible.
There's another M.2 slot further down as well, but this one doesn't get the same heatsink treatment - if only because it probably wouldn't physically fit between your other PCIe slots. It's also worth bearing in mind that this particular M.2 socket shares the same PCIe clock as that top PCIe x1 slot, so if you've got something in both then the M.2 will only run at the same SATA-level speeds as the six proper SATA ports you get along the side for your traditional 2.5in SSDs. The same applies to the PCIe x1 slot down the bottom, too.
This isn't something I'm particularly worried about though, because a) the number of people who actually own two NVMe SSDs is likely to be quite small (and those also needing two PCIe slots will be even smaller), b) you're not going to be putting anything in that top PCIe x1 slot anyway if you have a graphics card, and c) come on, who really needs two PCIe x1 slots?
Much more useful is the X470F-Gaming's plentiful supply of fan headers. You get seven in total, catering for chassis and AIO water pumps alike, which is pretty generous as far as these things go, and other nice extras include a USB3.1 Gen 2 header for the latest USB speeds, plus a USB 3.1 Gen 1 connector and two USB 2.0 headers.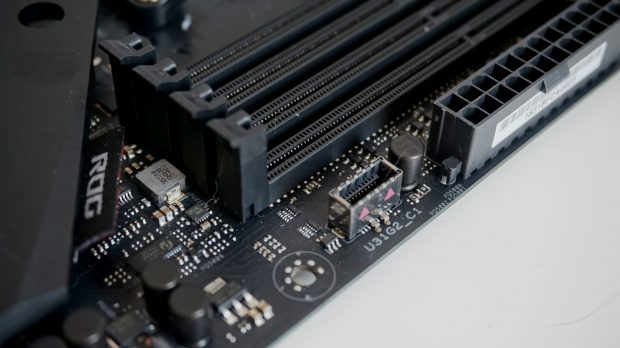 You also get four little LEDs in the top corner that let you know if you've got a problem with your RAM, CPU, graphics card or booting devices. Not quite as useful as a proper little display you'll find on other boards, but at least it's better than nothing.
It's certainly got the features to justify its price, then, so let's talk about how it actually performs in practice. To test the X470F-Gaming, I loaded it up with AMD's Ryzen 7 2700X CPU, 16GB of G.Skill Sniper X RAM running at 2133MHz, an Nvidia GeForce GTX 1070Ti graphics card and a Samsung 850 Evo SSD.
And from the looks of things, the X470F-Gaming is a pretty good all-rounder. While it couldn't quite keep up with the MSI X470 Gaming M7 AC when it came to pure gaming performance, it proved to be a pretty close match to Asus' more expensive ROG Crosshair VII-Hero (Wi-Fi), coming in either just behind or on par with its pricier cousin in almost every test I threw at it.
In Geekbench 4, for instance, the X470F-Gaming produced respective single and multi core results of 4607 and 25126, which is pretty damn close to the Crosshair's results of 4651 and 25547, not to mention ahead of the M7's 4561 and 24168. The same thing happened in Cinebench R15, too. Here, the X470F-Gaming sat right in the middle of the Crosshair's 175 and the M7's 173 single core scores, and it actually came out on top in the multicore test, beating both the Crosshair's 1746 and the M7's 1750 with a score of 1771.
In the grand scheme of things, I doubt this would translate into any kind of meaningful difference in actual everyday use, but it goes to show you're getting equal, if not marginally better, general performance with the cheaper X470F-Gaming as you are on more expensive boards.
The same goes for its SATA storage performance. Both the Crosshair and X470F-Gaming produced an identical random 4K read speed of 38.5MB/s when I put them through AS SSD's synthetic benchmark test, coming in a fraction behind the M7's 41.3MB/s random read speed. The M7 took a bigger lead when it came to random 4K write speed, finishing with 93.6MB/s compared to the Crosshair's 87.7MB/s and X470F-Gaming's 76.70MB/s, but I'll be damned if I noticed which one was faster during testing.
It was only when I turned toward more gaming-oriented tests that the X470F-Gaming started to fall a bit further behind. In 3DMark's Fire Strike test, for instance, its overall score of 15533 was about 400 points slower than the Crosshair and around 800 behind the M7. A mid-15000s score is in itself still highly respectable, but it rather undermines its titular 'Gaming' moniker when you start comparing it to other X470 boards.
The X470F-Gaming struggled to keep pace in PCMark 10 as well, although here its score of 4136 still proved a roughly equal match for the Crosshair's 4313. Again, MSI's M7 proved to be most adept at this mix of office, web and digital content creation-based tests, steaming ahead with a score of 5665.
Still, I'm not sure whether those few extra seconds you'll save waiting for something to happen are worth paying an extra £30 for - at least in the UK. In the US, the MSI only costs another $15, making it a much more tempting bit of kit in terms of overall performance, but I'll be writing up separate, more detailed reviews of both the Crosshair and the M7 next week.
Right now, though, the Asus ROG Strix X470F-Gaming is definitely my favourite in terms of what it's like to build with, as well as its overall look and design. It may not be the fastest gaming motherboard out there, but it almost certainly holds its own when it comes to general, everyday performance. If you're looking to build a more general purpose PC that's ready for anything and fancy saving yourself a bit money in the process, then the X470F-Gaming is a great place to start.