Asus PG27UQ release date confirmed for June, but the price of this 4K G-Sync HDR monitor is still unknown
Only one more week...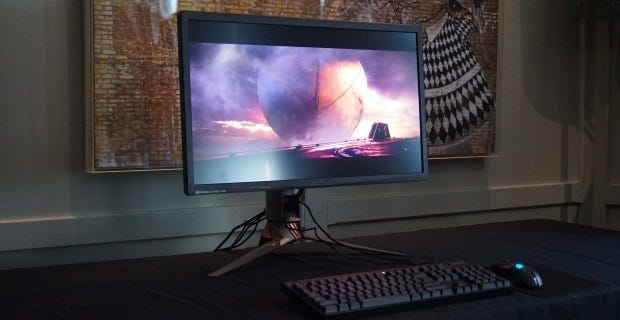 It's been 18 months since Asus' super duper Nvidia G-Sync HDR monitor, the ROG Swift PG27UQ, was first announced to the world, but now the wait is almost over. Nvidia hinted last week we wouldn't have to wait too long before it starting appearing on shop shelves, but now Asus themselves have confirmed the PG27UQ will definitely be here this June in all its 4K HDR glory.
You can read more about my first impressions of the PG27UQ (and why both it and its launch buddy, the Acer Predator X27, may well be best gaming monitor of the year material) by clicking the link above, but for those that just want the straight shooting facts, here's what you can expect when it arrives next month.
As mentioned at above, this 27in IPS monitor comes with a 4K resolution, a refresh rate of up to 144Hz when overclocked through the monitor's onboard menu system and Nvidia G-Sync HDR support. The latter gives you all the benefit of Nvidia's adaptive frame rate technology while punching up its colours and overall brightness for an Ultra HD Premium TV-level of HDR (or high dynamic range) goodness.
In meeting Nvidia's standards for HDR, the PG27UQ is also, according to Asus at least, the world's first monitor to get VESA's DisplayHDR 1000 certification - although Philips also said that about their already-available 436M6VBPAB. Either way, DisplayHDR requires 1000cd/m2 of peak brightness and at least 97% coverage of the DCI-P3 colour gamut - the same qualifications demanded by Nvidia.
The former is controlled by 384 dynamic backlight zones, allowing the PG27UQ to deliver super bright highlights without making the rest of the screen look all grey and washed out. In my eyes, this is what makes HDR really sing when you see it in person, and it leaves a much greater impact compared to an HDR monitor's increased colour accuracy.
Vibrant colours are still important, of course, and the combination of its 97% DCI-P3 coverage (which is much larger than the standard sRGB colour gamut) and the panel's Quantum Dot technology (which, through various means of scientific jiggery pokery, allows a screen's LEDs to emit more accurate colours) should be a potent pairing when it comes to producing more life-like images.
As you'll be able to see in my hands on, the PG27UQ also comes with a fully height adjustable stand, complete with Asus' infamous ROG projection system. This not only projects a ROG logo onto your desk through the bottom of the stand, but you also get one firing out the top of it, too, allowing you to plaster your ceiling with Asus' delightful ROG eye thing as well. If that wasn't enough, it also supports Asus' Aura Sync tech, too, allowing you to match your favourite colour scheme across all your compatible Asus components.
Sadly, there's no official pricing just yet - only Nvidia's vague statement that it will cost at least $1000 - but I expect to have confirmation within the next week or so, so do keep your eyes peeled for that as well.
In the mean time, Asus are running a competition where you can try your chances at winning a PG27UQ yourself. To enter, you'll need to jot down some words on why you want one, and then share it on Facebook, Twitter or Instagram with the hashtag #ROGSWIFTPG27UQ. You can also visit Asus' website to try your hand at other prizes, too, including a ROG Gladius II mouse, a ROG Strix Flare keyboard, a ROG Strix Fusion 500 headset, a ROG Maximus X Formula motherboard, a ROG Strix GTX 1080Ti and the monitor itself.