Attack Of The Foreheads: STO's Klingons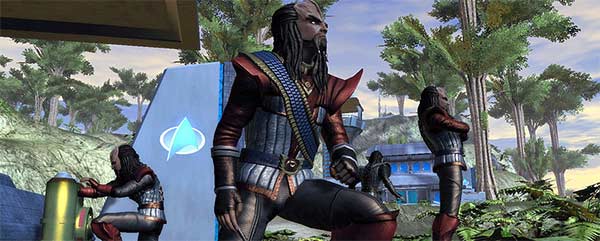 Another peek at Cryptic's upcoming Star Trek Online, this time focusing on the Klingons and their motives for wanting to smack the Federation's ships up. They sound angry. Was it because they were left out of the new movie? I'd be sad about that, if I was a Klingon. Doesn't seem fair, really.
Not quite sure why the guy in this trailer sounds like a disgruntled Yoda, however. And I'm presuming it's CGI rather than in-game, but I can't tell anymore. I've been tricked so many times before! I can't trust anyone!


It's very much Klingons As Horde, isn't it? Noble savages, convinced the smarmy humans'n'chums are out to get 'em. Seems like a smart way to handle the faction, really - I suspect out-and-out baddies wouldn't make 'em all that appealing, plus it'd tick off a whole bunch of longstanding Trek fans.
General stance on STO seems to be cautious optimism, though I'm sure Cryptic are well aware of the intensity of the expect-o-gaze on them in the wake of the movie salvaging the Star Trek name from nerd hell and of their making a bit of a boo-boo with Champions Online. Hopefully that's galvanized them into doing something incredible. Hopefully. For first-hand thoughts on STO, do read Kieron's report on it from the recent Eurogamer Expo if you haven't already.