Audiosurf Adopts VR With Audioshield, Out Next Month
Tune in!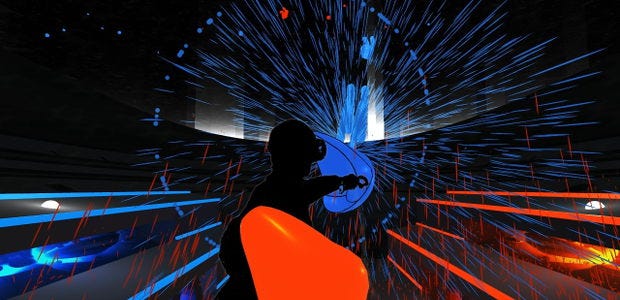 Perhaps the most difficult thing about demonstrating the virtues of virtual reality games is the fact that so much of the effect is lost when portrayed via flat video. With this in mind, the Fantastic Contraption guys have made some good videos recently using 'mixed reality' - a process where a combination of secondary cameras and in-game and in-headset footage is used to showcase how the game works. Audioshield [official site], successor to obstacle-dodging rhythm game Audiosurf, adopts a similar approach in its latest trailer to great effect.
Alongside yesterday's HTC Vive pre-order announcement, Audioshield developer Dylan Fitterer revealed a mixed reality preview video for his upcoming orb-blocking, motion-controlled, music rhythm game. Come, see:
The video combines gameplay footage of someone playing along to Vortal Combat from the Half-Life 2: Episode Two soundtrack with green-screen footage of the player's movements, to demonstrate what they're doing. Which is blocking different sprays of colour with the appropriate shield (a motion controller) on a level generated from the music. Come release, much like the Audiosurf series before it, Audioshield will allow you to use music direct from your library or streamed via Soundcloud.
I'm still on fence as far as VR is concerned - I mean, the price tag is a big ask, right? - however Audioshield does look really rather cool. Will games like this justify the price tag? Probably not for me, but I am glad they exist, if for nothing else but to offer another example of what the medium is capable of creatively.
Then again, there are some folk who just won't be sold on virtual reality in its current guise at all. Which camp do you fall into?
Audioshield is out on Steam next month.