Side-scrolling MOBA Awesomenauts is now free-to-play
Dote on this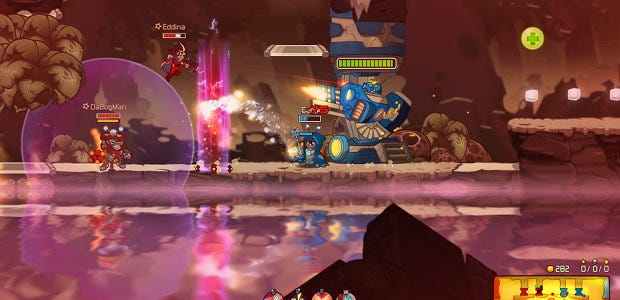 Awesomenauts [official site], Ronimo's 2D side-scrolling MOBA, has switched to free-to-play after almost five years. After commercial MOBAs exploded, most of the next wave were basically Lolbuts ('like League of Legends but with...') but Awesomenauts had an interesting take. It's an action-platformer built upon the MOBA fundamentals of waves, bases, neutral enemies, and all that, an interesting rejiggling which casts off a lot of the MOBA baggage. If you fancy a crack, hey, it's now free to play. Have a gander:
How does the Awesomenauts free-to-play model work? Each week, a rotating lineup of 4 of the 29 characters will be available free to all players. Extra characters can be unlocked with virtuacash earned by playing or with real money, while fluffy doodads like skins and announcer voices cost cash. For spendy players who want to skip faff, all the characters are sold in a discounted bundle.
Players who bought Awesomenauts have received a special virtual medal and portrait to show off, plus a skin for the drop pod characters spawn from. Folks who bought Awesomenauts and both its expansions will get all characters free now and ever. I believe other players get to keep heroes they had already unlocked (characters were locked to account levels).
I adore Dota 2, which is why I tend to skip other MOBAs - I can't be having similar-but-not-quite-the-same characters, items, and systems confusing my Dotabrain. I've kept putting Awesomenauts off because of this too, but maybe the platformerness will let it exist in different brainspace.