Back On The Streets: True Crime Hong Kong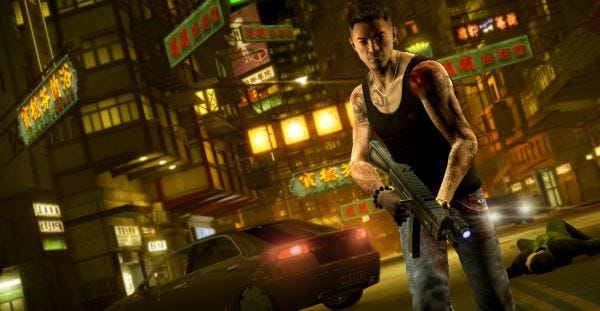 Back in February we brought you the sad news that True Crime: Hong Kong would not be released. Despite apparently being pretty much finished, Activision canned the project. United Front Games' open world action-them-up was put into a locked cupboard because Activision believed it wasn't competitive with other games in the genre. Which is to say, they thought it was poop. And this came after almost a six months' delay to add polish. Polish that Acti CEO Eric Hirshberg rather confusingly explained in November last year had "paid off". However, clearly not enough. But now, release the party poppers, Gamasutra reports that Square Enix have announced they've acquired the game and plan to release is.
Activision's position on the game was muddled to say the least. In November last year CVG reported (somewhat in gobbledegook) his saying, "The additional development time invested in this game has really paid off, for gameplay mechanic the make the fighting and shooting as sophisticated as the driving, which is something that's very hard to achieve in the open-world genre." And then a few months later they ditched it for good.
True Crime: Hong Kong was intended to be a complete reboot of the True Crime series, the first two from Luxoflux (Streets Of LA and New York City) both getting very mediocre scores. In fact, a third game by Luxoflux had started development but was also canned after NYC performed so weakly. Clearly Activision believed in the IP enough to see the accurate city representation handed to another team, and then baulked on it yet again.
Square will be releasing the game, but without the name. The acquisition from Acti gets them the code, but not the IP. As Square's Lee Singleton told Gamasutra, "It's too early to say what the name will be," but promises the process will be "pretty straightforward".
But why did Square pick it up when Acti clearly didn't want to touch it?
"When we first saw and got our hands on the game we fell in love with it," Singleton goes on to explain. "It's one of those games where you don't want to put the controller down."
Controller indeed. The game was originally slated for a PC release, along with 360 and PS3, and since it was pretty much done (and all such games are developed on PC in the first place, along with Square's established support for PC) it seems reasonable to assume this will stay the same.
United Front, the team who are more famous for having worked alongside other teams on games like Batman: Arkham Asylum and Just Cause 2 than their own Sony exclusive, ModNation Racers, are still working on the game say Square. This involves rehiring everyone they previously had to let go in February, and pushing to finish it all off completely. Square Enix's London group say they are willing to give the game the time it needs to be fully realised, and as such aren't willing to talk release dates yet.
And what about Mr Hirshberg? Gamasutra spoke to him too, and he told them,
"Our team has worked very hard to find a solution where everybody wins. Square Enix gets the benefit of the tremendous investment we've made in the game thus far. UFG gets to stay together and complete their vision. And gamers get to play a great game. We couldn't be more thrilled."
Here's the original trailer from May last year: