Bad Company 2 Throws Off DRM Shackles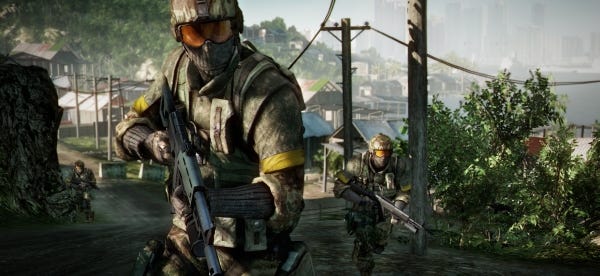 As part of an eyewatering 2.6Gb cumulative patch known as Client R11 due for release today, DICE have taken the bad out of Battlefield Bad Company 2. The bad in this case being the icky and pointless SecuROM DRM in non-Steam versions of the game. Hooray for small freedoms! The patch also brings some tasty-sounding performance improvements and bug-splats, as detailed more below.
Sadly, DICE claim expediency required that they didn't also put out a smaller patch for people who've installed all the former updates, so you'll need to bully your broadband connection into the full 2.6Gb for now. This seems rather cruel, to be honest. They give with one hand, and take with the other, but oh well. Both Steam and the non-Steam versions should auto-update with the new patch right about now.

Here's what's in the box:
Removed some memory leaks
Fixed crashes when the game attempted to render lots of content (high detail, high FOV or
multiple-monitor modes); this should particularly help multi-monitor users
Chat window no longer causes lag spikes
Chat window reworked opacity & visibility-time is controllable through settings in settings.ini
Clantag is remembered when using auto-login
Banner URLs can be up to 252 characters in length
SecuROM wrapper removed from non-Steam version
Minor performance enhancements
Reduced rubberbanding on servers with more than 24 active players
PrintScreen takes a screenshot, file stored in Documents\BFBC2\Screenshots directory
But what if I like rubberbanding?
More details and dinosaur jokes here.