BANG BANG BANG!
Local multiplayer standoffs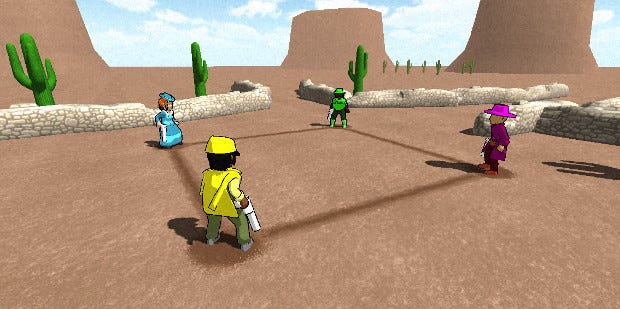 BANG BANG BANG! is a good name for a video game. BANG BANG BANG! It's got guns, and people shoot each other. BANG BANG BANG! It's the latest from Sophie Houlden, creator of splendid streamlined fighting game There Shall Be Lancing, Swift*Stitch, and many other fine games. BANG BANG BANG! It's a local multiplayer game, putting 2-4 players in a wild west standoff. BANG BANG BANG! I haven't played it yet, but am quite keen to round up a few pals and see about gunning each other down. BANG BANG BANG! It's out now on itch.io for $10. BANG BANG BANG!
The heart of There Shall Be Lancing was getting to know opponents and predicting their moves, and BANG BANG BANG! looks to have a bit of that too, only with the extra social level of shifting alliances and allegiances. I assume, going on what I see in the trailer:
There Shall Be Lancing is one of those games I assume everyone already knows about because I've seen it at loads of events, always with two players laughing and a small crowd gathering. Do you know about TSBL? You should know about it. It's a fighting game stripped down to the core of striking, dodging, and blocking, played within a spherical battleground. It's not out yet, still only making appearances at events, but look at how it was at the end of last year:
BANG BANG BAN!