Bangs For Your Bucks: Renegade Ops DLC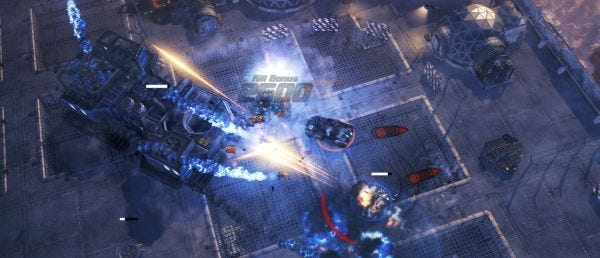 There's more of Avalanche's Renegade Ops appearing today. The breezy and fun (sez Brendan) top-down action gets bigger with two paid-for DLC offerings. You've got the Reinforcement Pack (called the Vehicle Pack in the US, for some reason), and the Coldstrike Campaign, and they're cheaper on PC than anywhere else.
Coldstrike continues the game's main story, with a new eponymous enemy, three new chilly levels, and the addition of Golems. That's £3 on PC (£3.60 on PS3).
And there's the Reinforcement/Vehicle Pack, which offers two new heroes, Crystal and Blazemo, along with their own sets of abilities and weapons. That costs £1.80 on Steam, again, cheaper than the consoles.
And you can currently get the whole game for just £7.50 in Steam's sale, so that's good. Do you know, I think I'm going to give it a play.