Barking Up The Right Tree? Space Wolf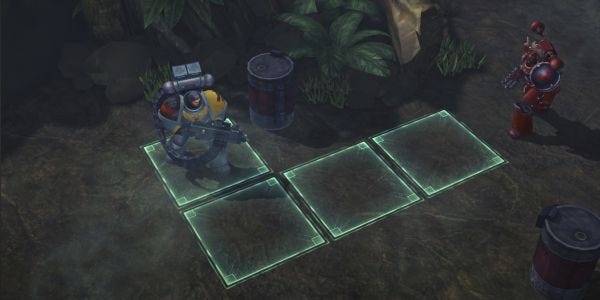 Choo-choo! All aboard the possible disappointment train, it's another Warhammer 40,000 video game! Alright, so Space Hulk didn't go the way it should have despite having everything going for it. Let's pack it up in its own little space and it can gestate, get a patch or two. The new boy riding into town with shining pale blue armour is Space Wolf, a collectible card game focused on the feral Space Marine legion. Most interestingly, developers Herocraft are promising a "tactical combat and CCG fusion" where cards will be played and then visualised in "glorious, interactive 3D environments."
Hmmmmmmm. Desperate attempts not to set myself up for another wasted purchase after the jump.
There's every reason not to be excited for Space Wolf. These kind of 'tactical card battlers' have been tried before and "not good" would be the political way of putting how they turned out. Further, a quick glance at Herocraft's website doesn't fill me with confidence that the mobile-only developer designs the sorts of games I want to play. Top it off with that buzzphrase of horror "free to play" and those reaching for the drop pod can't really be blamed.
But there's potential! The 40k universe is just cool looking so it's difficult to lampoon them for wanting to exploit that with a pretty engine. And while I'm a broken record on this, card games are awesome and exactly the sort of thing that the modular tabletop nature of Warhammer can be adapted to easily. In addition, SolForge has shown the genre can work with a League of Legends style two currency system earned through play or purchase so the business model may not be a reason to worry if implemented intelligently. Herocraft, as long term mobile developers, will be experts in crafting games that operate with and without additional cash flow from the player.
I'm willing to give it the benefit of the doubt and see how Space Wolf develops. Look for more glimpses of greatness (or failure) as we approach a release date some time next year.