Batman: Arkham Knight Out Today
Check the launch trailer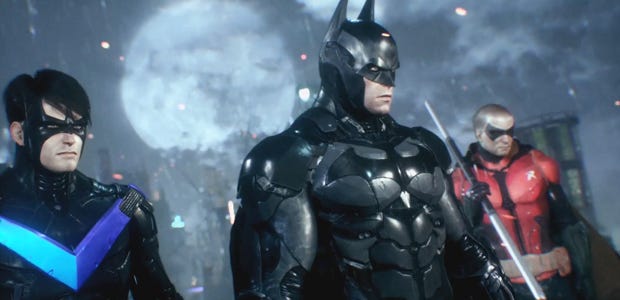 Did you know that Batman: Arkham Knight [official site] is out today? You did? Then Warner Bros' marketing budget has been vindicated. Did you you know that the early Steam reviews suggest that the PC port has serious bugs and performance issues? You did? Good.
Adam is playing it now and should have more detail shortly [Update: here is more detail]. In the meantime, here's a launch trailer for the game with all its leather clad bombast.
The trailer features not only overwrought voice over and frantic gameplay footage, but also Mercy, a song from Muse's latest album. Which, yeah, actually works quite nicely with the sweeping cityscapes and feeling of impending doom. A fitting tone for the end of the Arkham trilogy.
We didn't receive a review copy of the game in advance, which is why we don't yet have a review. Perhaps the PC version did not get all the attention it deserved during development.