Batman: Arkham Knight Trailer Feat. Explosions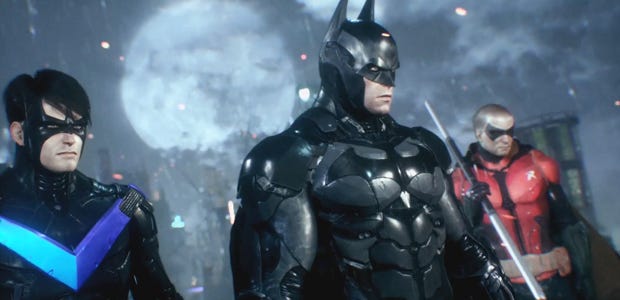 Hey, Batfans! It's the Bat-official Bat-trailer for Batman: Arkham Knight [official site].
Bat-watch it after the Bat-jump:
This might well be sacrilege but I never find myself particularly drawn to Batman. There's something about the character which rubs me up the wrong way even when individual implementations or explorations are interesting. I really like the high camp of the sixties incarnation and, to some degree, its polar opposite in Nolan's movies. I've also dipped in and out of the cartoons in ages past and had friends wax lyrical about various story arcs or moments in the comics. I never finished it but I remember Arkham Asylum had a really pleasing sense of movement and grace of action.
But despite this variety, the basic Batman template in my head is of a bullheaded, humourless guy, living in a miserable world and whose superpower is white male privilege. It doesn't bar access to those games or movies, but it adds an extra layer of needing to be sold on a particular concept before I'll fire the enthusiasm cannons.
Something I do like the look of here (aside from Nightwing, who looks pretty swish) is the dual play combat where, according to Eurogamer, you get to switch between Batman, Robin, Nightwing, Catwoman and other allies as you fight. If the footage in the trailer is to be believed that looks like staging a one person martial arts tennis match with a foe as the ball. I mean, I assume that in tennis the object is to leave the ball unconscious and mangled but definitely not dead on the floor of the court?
Perhaps I should have gone with the "it looks like playing as a two person tag team in a wrestling match" analogy instead.