Batmobile Driving Into Rocket League Next Month
Bats bonanza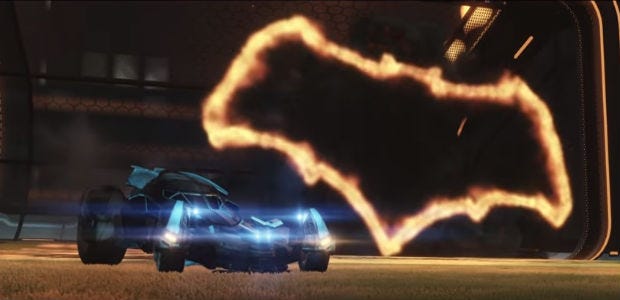 Rocket League [official site] hasn't exactly shied away from DLC since its release last year, however this update, as superficial as it may be, might well be my favourite. Tied in with the upcoming Batman v Superman: Dawn of Justice cinema release next month, The Bat's iconic wheels will be whizzing into the Wasteland come March 8th.
There was much hype when the DeLorean DMC-12 was added to Rocket League amid the Back To The Future mania that swallowed the world for a few days towards the end of last year. I for one love the series of time-travelling, hover-boarding, Biff-bashing movies, yet couldn't help but cringe at the amount of rubbish that was circulating around the time - not least this awful tweet from the UK's Department of Work and Pensions.
As such, for all I liked the DeLorean as it starred in Rocket League, I felt it was overshadowed by all the rabble going on elsewhere. The Batmobile, on the other hand, looks pretty amazing. It's no less shameless as far as movie tie ins go, but, well, see what you think for yourself:
Cool, eh? Rocket League's Batman v Superman: Dawn of Justice Car Pack offers players the Batmobile as it'll appear in the forthcoming movie and will also include three antenna flags: one for Batman, one for Superman, and one for Wonder Woman.
The update will cost $1.99 - or the "regional equivalent" - and will be available on Steam as of March 8. Now we can all learn to fly on the field as the Caped Crusader.