Gearbox's Battleborn Open Beta Weekend Is Underway
What even is this?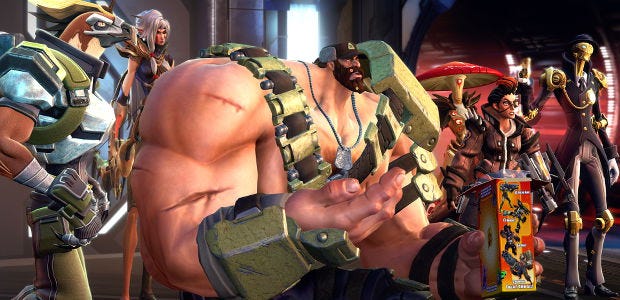 We've mentioned before that Gearbox's multiplayer shooter Battleborn [official site] had an open beta test coming up, but that's now started so hey, here's me to remind you. Until Monday afternoon, you can download and play a chunk of Battleborn for free through Steam. If you want a go before the game launches or you , like me, are not quite sure what it even is (a class-based shooter? a bit like a MOBA? that 'hero shooter' term Gearbox throw about is total tosh?) then this seems a decent opportunity.
The open beta offers two story mode episodes, which can be played solo or cooperatively, along with two competitive multiplayer modes. Gearbox explain:
"In the Open Beta, you'll start with 7 unlocked heroes and you'll unlock more as you rank up and complete objectives. Experience the natural progression of the game as you unlock heroes, skins, taunts, titles, and more. Test out Battleborn's multiple progression systems where playing either Story Mode or Competitive Multiplayer Modes will earn you XP towards temporary Helix augmentations as well as persistent Command Rank and Character Rank levels."
Click on this handy link to start installing it through Steam. It's a 7.6GB download. Hit the open beta FAQ for more info.
While you're waiting for that to download, hey, Pip has written before about Incursion mode, one of the competitive modes in the beta and one she didn't really dig, as well as a bit of co-op Story mode.
The full game is due to launch on May 3rd.