See what you'll see at sea in Battlefield 1's Turning Tides
Blast those deets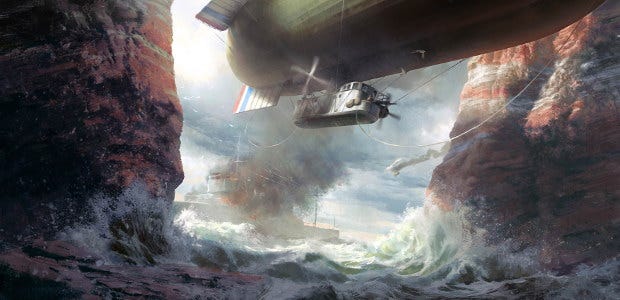 Battlefield 1 [official site] is off to sea sea sea in its next expansion, Turning Tides, so come see what you will see see see. EA today blasted more details on the DLC, explaining about flying airships over the Gallipoli peninsula, cruising the waves of Heligoland Bight in a new destroyer, and shooting guns whose names have a lot of letters and numbers. It's still weird to me that Turning Tides is split into two releases -- most of it coming in December, then the rest in January 2018 -- but better two parts than a delay for the lot I suppose.
So! December will bring two new maps set around the Gallipoli peninsula of the Ottoman Empire (it's in Turkey now). Cape Helles will fight over the beaches by land, sea, and air, while the Achi Babi map will bring a scrap to control a hill.
Also coming in this lump are new weapons (the M1917 Trench Carbine, Maschinenpistole M1912/P.16, Farquhar-Hill, M1917 MG, Carcano M91 Carbine, Type 38 Arisaka, Naval Cutlass, and Grappling Hook), the new 'Infiltrator' Elite class, the four-seater L-Class Destroyer, the four-person C-Class Airship, ane new specialisations, Service Assignments, unlocks, and a new mode. Based on Conquest mode, Conquest Assault "sees attackers and defenders fight over key areas, exclusively controlled by the defending team as the match starts," EA explain.
Moving into 2018, the Heligoland Bight will bring a big sea battle for control of the German bay, the Zeebrugge map will scrap over the Belgian port, and Royal Marines will join the scrap.
All this will come as part of the DLC season pass, and Turning Tides will be sold separately too. Though because EA are petty, people buying DLC separately get it two weeks later.
How's the war treating y'all, gang?