Battlefield 3 Patch Contains Tweaks, Adds Shortcuts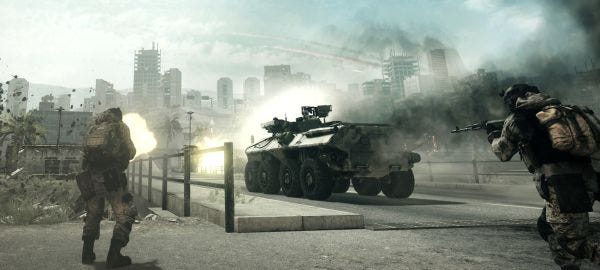 The Battlefield 3 patch rolls out today, bringing some excellent tweaks as well as adding "shortcut items" that allow players to buy items rather than putting in the hours to unlock them - "If you're new to the game, this is the perfect way to gain some ground on the veterans online." Or maybe you're just a lazy man-/vehicle-shooter with money to burn? If so, these are the items for you, with an ultimate bundle that unlocks everything and smaller collections available. Some people are predictably furious, whether due to price or due to the fact that newcomers can jump to the top of the tree straight away. Personally, as I gibbered about earlier, I'm increasingly disinterested in these multiplayer unlock systems. Other changes listed below.
The updated commo rose looks nifty and seems designed specifically to improve the PC experience, using the keyboard and mouse in a more intelligent fashion. A big hurrah for that.
Improved minimaps too!
You can read the rest here, including details of passive SOFLAM use, IR flares for all and the addition of horns to all jeeps.