Mech it so: Paradox are publishing BattleTech
Following successful Kickstarter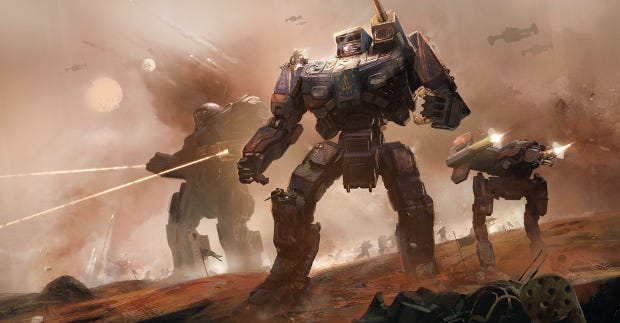 At the Paradox Convention 2017, the strategy game developer/publisher announced that they would be working with Harebrained Schemes as publisher of Battletech, the turn-based squad level tactical mech game that was an instant Kickstarter success in 2015. We've already spoken to the developers in-depth but this weekend will be our first chance to play, and I'll be speaking to BattleTech creator Jordan Weisman about the collaboration with Paradox and the game itself.
This is the first Paradox Convention open to the public, a combined fanfest and press event. The public segment begins tomorrow and there will be talks by Paradox developers and third-parties, including Mojang, Frontier and Skylines developers Colossal Order. Along with the announcements, there'll be hands-on with games, including the new Skylines expansion Mass Transit, and I'll be playing everything available as well as talking to Paradox about the future of their grand strategy games in this, the fifth year of Crusader Kings 2.
Paradox opened the event by going through the highlights of 2017, all of which have been expansions: Stellaris: Utopia, Crusader Kings 2: Monks and Mystics, and Europa Universalis IV: Mandate of Heaven. The long life of these internally developed games is a core part of Paradox's business model, but the company is also expanding as a publisher. That includes not only third-party originals like Battletech, but ports of existing titles such as Prison Architect on tablet.