Be a Frog Detective because that's neat
Hop to it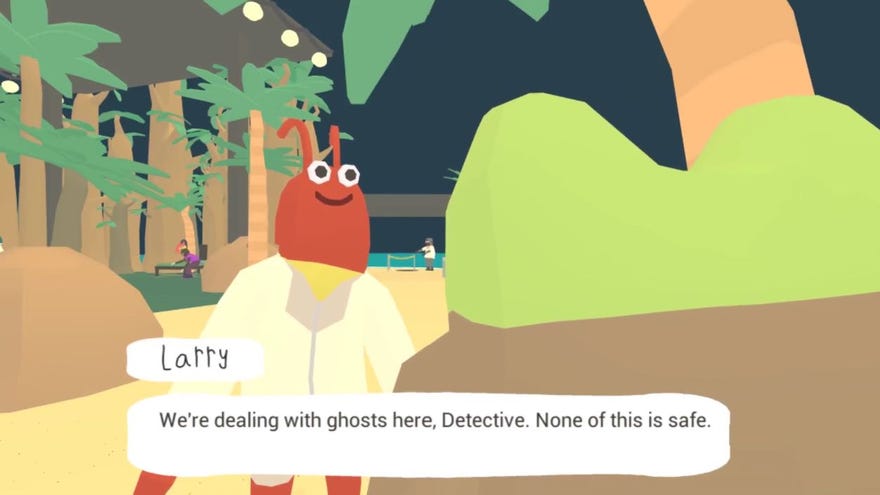 Hello, it's Monday. Would you like to leave it all behind and become an inspector who solves crimes but is also a frog? Yeah, me too. As luck would have it, The Haunted Island, a Frog Detective Game will let you realise this desire. It's about a frog with a brown jumper and a magnifying glass coming to a spooky island to investigate strange noises. Ah, but not yet. It's still being clicked together by its creators, and planned to come out some time this year. Back to those non-amphibious spreadsheets, I suppose. But maybe… yes, let's do it. Let's investigate the game's froggy trailer. Just a peek.

If you recognise the colourful animals, smiling faces, and daft words, you may have explored Alien Caseno by the same developer, Grace Bruxner. That was about visiting a casino on a meteor, built by aliens who are determined to recreate the human pastime of gambling, despite knowing very little about games like "ponker". Or perhaps it looks familiar because you done did a stroll through The Fish Market, a sub-aquatic land of puns and squid ink.
Haunted Island is set to be a bigger game than those two free walkabouts, with a full-boot story and some proper adventuring involving explosive devices and "ghost scientists". As it's a bigger undertaking, Bruxner is being helped out by programmer Thomas Bowker, who made swipey puzzler Lyne, and music man Dan Golding, who worked on wiggly wrestle 'em up Push Me, Pull You.
Previous Bruxner worlds have been about exploring small places full of silly detail and listening to lobsters and martians blurting out funny, misspeled dialogue. It's like being a giddy tourist in a children's book. Frog Detective looks as if it's following that playful tone, judging by the frog blog on the game's official site and the silly-billy comments accompanying each blog post. These remind me of the wistful comments and posts of Ni No Kuni II's wholesome social network, Leafbook. More cheery, child-like mutations of terrible internet culture please. It makes my Monday happier.