DNA-mutating roguelikelike shooter Beacon looks swish
Grow an acidic stinger arm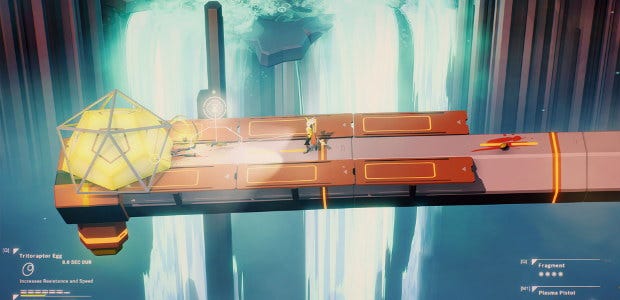 The daddifcation of video games continues with aplomb, but what a terrible waste parenthood is, collecting genetic material to make a mewling idiot who can't even drive. It's time for this to end. It's time to be your own dad. Or your own mum in the case of Beacon, a roguelikelike top-down shooter where a crashlanded spacewarrior collects DNA from defeated enemies to feed into her ship's clone bay so her next clone spawns with strange new mutations after she dies. That, I'm into. Beacon today launched a "first access" version, earlier than early access, for those truly behind the cause.
So! Freja Akiyama, a seasoned spacewarrior, has crashlanded on an alien planet and died. Handily, her ship's clone bay still works, spitting out more copies of her as she dies. But she can come back better before, collecting DNA from enemies to rebuild herself in a new form.
Depending on which DNA you collect and choose to integrate, changes can range from stat boosts to bigger changes like one arm growing into an acid-blasting stinger. I'll take the acidarm, thanks. Acidarm over children any day, mate. Between this and the fantastic Dead Cells, it's shaping up to be a good time for self-improvement.
So off Freja goes, shooting various factions of aliens in top-down shooter action, collecting DNA, weapons, items, and all that as she tries to find her ship's distress beacon and call for a ride home.
The initial "first access" release has four of the game's planned (procedurally-generated) levels and dozens but not all of the game's items, weapons, mutations (75+ in the full version, developers Monothetic say), and enemies. Monothetic are quite clearly that this is early days for the game, still with bugs and gameplay issues, though it is already looking quite swish.
Beacon is $20 on Itch.io for Windows, initially limited to a first access wave of 1000 copies. It will eventually go to Steam, and folks who buy now on Itch will then receive a Steam key.
What a good collection of clones: