BenQ EX3203R review: The HDR monitor that looks better without it
The HDR debacle continues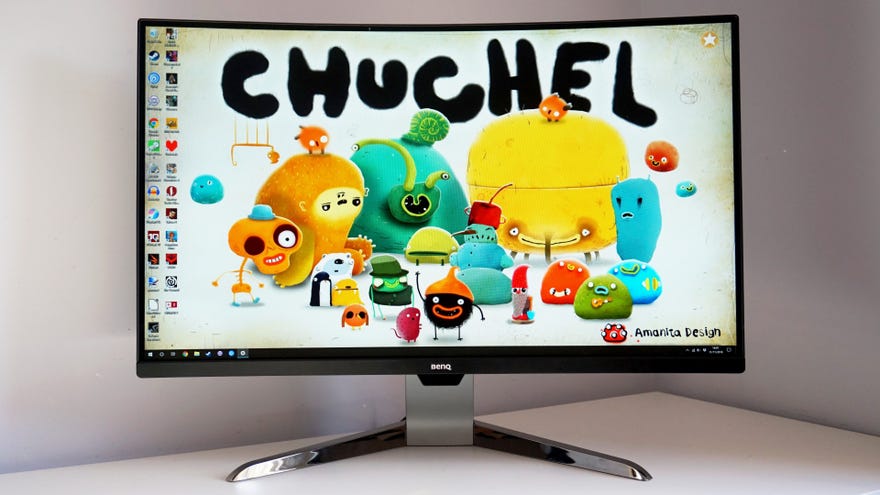 If the BenQ EX3203R name sounds familiar, that's because there's just one number separating it from its almost identical sibling, the EX3200R. Both screens share the same design and have a curved 31.5in VA panel to their name, and both come with high 144Hz refresh rates and support AMD's adaptive frame rate FreeSync tech.
What sets the EX3203R apart, however, is its sharper 2560x1440 resolution (which instantly fixes the main complaint I had with the 1920x1080 EX3200R), and support for FreeSync 2, AMD's HDR (or high dynamic range) standard. You'll have to fork out considerably more for the privilege, mind - £469 / $700 compared to the EX3200R's £315 / $320 at time of writing - but for some, that may well be a price worth paying. Is it best gaming monitor material, though? Let's find out.
I must say, I've grown increasing fond of this monitor's overall design now it's crossed my desk for a second time. While its huge screen can still be a bit overwhelming at times due to the sheer size of the thing and how close it sits to your face, it definitely looks the part of a mid-to-high-end gaming monitor. I much prefer its silver, height-adjustable stand, glossy metal feet and small, elegant bezels to its nearest competitor, the very 'gamery' AOC Agon AG322QC4 (another curved 32in FreeSync 2 screen with a 144Hz refresh rate and 2560x1440 resolution), and it just looks good. No flashing LEDs, no red go-faster gaming stripes; just a great-looking monitor you wouldn't be embarrassed to have on your desk.
Its 2560x1440 resolution is also a huge improvement over the EX3200R's 1920x1080 pixel count and everything from games to text and desktop icons look infinitely better for it. There was still a hint of fuzziness around certain letters when I was using it for regular desktop work, but there was nothing I was particularly concerned about. I wouldn't recommend going for an even bigger screen with this resolution - 32in is probably the limit for 2560x1440, just like 27in is bordering on breaking point for 1920x1080 - but at no point did I feel like I was straining my eyes or in need of yet another eye test.
Similarly, the fact the EX3203R supports both AMD FreeSync 2 and VESA's DisplayHDR 400 standard means the monitor's overall image quality is also much better than its non-HDR EX3200R sibling - at least once I'd fiddled with its onboard menu, that is, but more on that in a minute.
In case you've forgotten, FreeSync 2 is an extension of AMD's existing adaptive frame rate tech, FreeSync, that adds HDR into the mix. In theory, this should mean brighter whites, blacker blacks, and more vivid, life-like colour reproduction on top of everything else FreeSync does such as tear-free and low latency gaming.
VESA's DisplayHDR 400 standard, on the other hand, is a more formal, industry-wide HDR standard that denotes a monitor must be able to hit a peak brightness of 400cd/m2 (hence the 400), 95% coverage of the rec.709 colour gamut (which is what the regular sRGB gamut is based on), and have a maximum black level of 0.40cd/m2 (the closer to 0.00cd/m2, true black, the better). What it doesn't require is any kind of DCI-P3 colour gamut coverage, which is now the de facto gamut by which everyone measures a screen's HDR chops, from TVs to Nvidia's G-Sync HDR monitors.
Thankfully, BenQ have filled in the gaps here, as they claim the EX3203R can cover 90% of the DCI-P3 gamut - putting in the same realm as those fancy Ultra HD Premium TVs and Nvidia's aforementioned G-Sync HDR monitors such as the Asus ROG Swift PG27UQ and Acer Predator X27. In theory, anyway. So while FreeSync 2 HDR continues to be as vague a standard as anything (AMD have never actually said what its specs are, helpfully), there's still plenty to go on here when it comes to testing its picture quality.
Out of the box, my initial tests looked quite promising. My X-rite i1 DisplayPro calibrator measured a very respectable black level of 0.13cd/m2, for example, putting it well within VESA's DisplayHDR 400 specification, as well as a lovely high contrast ratio of 3184:1, providing it with deep, inky blacks and plenty of detail when it came to looking at dark shadow areas.
Admittedly, neither of these results are actually as good as those I recorded on the EX3200R (the EX3200R had even deeper blacks and a higher contrast ratio), but that's probably because the EX3200R isn't nearly as bright overall. Indeed, whereas the EX3200R maxed out at 310cd/m2 (and more often settled around the 275cd/m2 mark), the EX3203R managed a much more impressive 414cd/m2 straight off the bat - and that's without me going anywhere near any kind of HDR control either.
Some may feel differently, of course, but personally I'd take the extra brightness over marginally deeper blacks any day. After all, the brighter a monitor can go, the greater visual impact its HDR is potentially going to make when you eventually come to turn it on in a game, which - let's face it - is probably the main reason why you'd consider buying this monitor over anything else.
So far, so good, then. We've got the brightness and the black levels; all that's left is the colour accuracy. And here's where it all starts going a bit fudge-like.
Compared to the EX3200R, the EX3203R is definitely the more accurate screen out of the box. According to my i1 DisplayPro, for example, the EX3203R's VA panel is capable of displaying 91.4% of the standard sRGB colour gamut on its default Standard picture mode and Normal colour temperature, while its DCI-P3 colour gamut coverage (the standard used to measure a monitor's HDR chops) came in at 65.2%.
That's not bad as VA monitors go, but 95% it ain't. Fortunately, the EX3203R is indeed capable of hitting that VESA target if you're willing to spend a few minutes setting up one of its Custom profiles instead. Unfortunately, the only way I was able to hit that 95% hurdle was to employ the use of the EX3203R's Colour Vibrance setting, which is sort of like the Philips 276E9QJAB's SmartImage mode - that is, a largely artificial effect that cranks up the colour saturation for maximum, eye-popping impact.
With this set to its maximum setting of 20, my calibrated Custom mode results saw its sRGB coverage rise all the way up to 97.9%, while its DCI-P3 jumped to 86.3%. That's still not quite as high as BenQ's claimed DCI-P3 figure of 90%, all told, but that's the best I could manage with the available settings.
So yes, the EX3203R is capable of hitting the VESA DisplayHDR 400 standard, but as I noted in my Philips review, this kind of vibrancy effect is pretty damn intense when you're just using it for ordinary desktop tasks. The sheer vibrancy of certain colours often felt just a bit too much on the old eyeballs for extended periods of time, and I regularly ended up turning it down to its default level of 10.
Many may well hate it, but man alive does it look impressive when you're playing games. Never before have the autumnal forests of Assassin's Creed Odyssey's Ancient Greece looked so rich and full of life, and ooof I'm almost as much in love with those reds and oranges as I am with Kassandra's biceps. It makes for a stunning in-game picture, whatever your feelings are about it in regular desktop mode, and when you combine it with the EX3203R's high 400+cd/m2 brightness and giant screen size it's easy to feel fully immersed in whatever world you happen to find yourself in.
The problem, however, is that the monitor doesn't do nearly as good an impression of this whizz-bang fizz-pop colours when you actually get round to turning HDR on. With HDR enabled, the EX3203R's lovely Colour Vibrance setting is greyed out and off limits, so colours actually looked worse in HDR than they did with it switched off. Not by much, all told (and turning on HDR definitely looked better than the monitor's default Colour Vibrance setting of 10), but neither Assassin's Creed Odyssey or Final Fantasy XV looked nearly as pretty in HDR as they did with no HDR and maxed out Colour Vibrance.
If you thought that was problematic, it gets worse. Just like the AOC Agon AG322QC4, the EX3202R looked even more terrible when I turned on Assassin's Creed Odyssey's specific FreeSync 2 HDR setting. Not only was the screen suddenly too dark and dingy, but there was also nothing I could do to make it even vaguely usable. This may well be the fault of the game rather than the monitor, of course, but if you're going to use HDR on the EX3203R, you'd be much better off sticking with its default HDR options than you are fiddling around with any dedicated FreeSync 2 support.
The really silly thing about the EX3203R, though, is that even when you've got HDR enabled, its maximum brightness doesn't go nearly as high as when HDR's turned off. When I stuck my i1 DisplayPro over a white sun flare in Assassin's Creed Odyssey, for instance, the screen was only hitting around 380cd/m2 instead of over 400cd/m2 that I measured out of the box. As a result, not only do colours look less intense with HDR turned on, but it's not even doing its best brightness levels. All in all, the EX3203R does a better job of hitting its HDR requirements by ignoring it altogether.
Truth be told, this is a problem I encountered on the AOC as well. There, the AG322QC4 maxed out at around 380cd/m2 in ordinary desktop mode, but could only muster around 350cd/m2 in HDR, despite also being a VESA DisplayHDR 400 screen. The twist? The AOC actually did look better in HDR than not, and had better out of the box colour accuracy (95% sRGB and 69% DCI-P3). Plus, it's cheaper, going for just £399 / $548 at time of writing.
Sure, the AOC doesn't have the benefit of the BenQ's Colour Vibrance mode, but call me crazy, I'd rather buy an HDR screen that actually looks like it's doing something in HDR (and doing it well, no less) than spend a load of money on one that actually looks better with it all turned off. Of course, all this is null and void if you don't have a compatible AMD graphics card (see my What graphics card do I need for HDR? guide for more info on this), but out of the two, I think you'd be much better off with the AOC than the EX3203R. The EX3203R may well be a superior monitor than the EX3200R, but neither are better value for money than the AOC Agon AG322QC4.