Test Your Getaway Driving Skills In Free Game Berlin'82
What's your high score?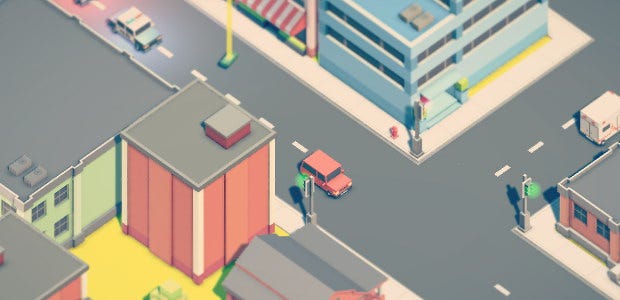 "Cheese it!" shouts Jimmy Two Knees before he's even through the car door, bundling in big hessian sacks marked 'SWAG'. "It's the rozzers!"
The sirens rise behind you but you don't care. You're ready for this. You've seen, well, not all of Jason Statham's films but most of them definitely. You even kept watching Crank: High Voltage long after realising it was so much worse than the first. Anyway, he didn't drive in that one much. But you're ready! You hit the gas and away your car rockets. Then you try to pull a handbrake turn and crash into a wall and explode. Your score: 480. That's how my early attempts went in free game Berlin'82 [official site].
Made by the one-man Beardman Studios, Berlin'82 is an endless driver with the police forever chasing you around cute tilt-shifted city streets. It's a pleasing simple arcade affair about racking up high scores. You automatically drive at a steady pace, but can accelerate at the cost of control or jam on the handbrake for some snazzy stunt driving. Smashing into things loses you points and crashing hard will explode you. All the while, the police are in pursuit. I'm good at the exploding bit.
And... that's it. It's fun and pretty and free.
You can grab Berlin'82 for Windows and Mac from Itch.
I'm not going to tell you my high score because I don't want to embarrass you, okay.