Best of CES 2018: The top PC gizmos you'll want to own this year
Start saving now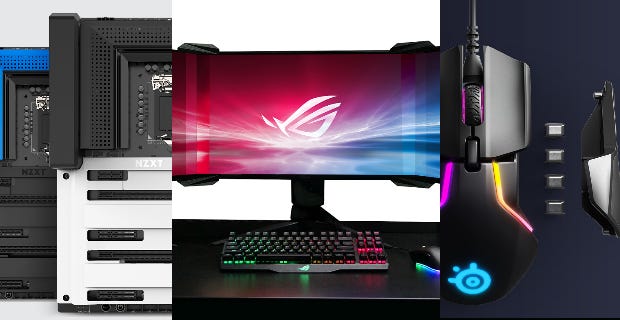 The Consumer Electronics Show (CES) is over for another year. It was a slightly weird show this year, marred by an embarrassing power outage, one too many pointless robots (Cloi, I'm looking at you) and the creeping feeling that the world's biggest tech show might just be becoming a bit irrelevant.
Fortunately, PC gamers still have plenty to look forward to in 2018, from giganto gaming screens and teeny tiny powerhouse NUCs to mouse mats that can charge your phone, metal-clad motherboards, and probably yet another hike in GPU prices when EVGA unleashes its crypto mining dream machine power supply that can run something silly like 14 Nvidia GTX 1070s all at the same time (thanks, guys). But all that's just the tip of the iceberg. Read on for what I'm officially deeming the best of CES 2018, all without a single stroppy robot in sight.

It will probably end up being far too expensive for us mere mortals, but HTC's new Vive Pro headset looks to be a significant upgrade over its predecessor. With a new higher resolution OLED display, a re-jigged headband, proper headphones and the option to make it completely wireless with its new adaptor doodad, VR might finally get its second wind.
Asus' magic-powered bezel-free monitor kit
We're filing this one in the 'mad, definitely not likely to launch ever in the history of the universe' folder of our CES highlights, but Asus's bezel-free kit is just too bonkers to ignore. Using mounted vertical lenses and optical wizardry, this little piece of kit effectively makes the gap between multi-monitor setups disappear, creating the appearance of a seamless wraparound display. It doesn't need any power or extra software to operate, either, as it's all done by light refraction MAGIC.
This tiddly barebones PC is the most powerful ultra compact system Intel's ever built, and it's all thanks to its brand-new Core chip with in-built AMD Vega M graphics. Capable of VR and pretty decent 1080p gaming, we're all crossing our fingers that this might signal the second coming of the Steam machine.
NZXT's first ever motherboard
PC case maker NZXT surprised everyone this year by announcing that not only had they made their very first motherboard, but that it might also be the best motherboard ever created. Designed to support Intel's Z370 chipset, this LGA 1151 board not only looks incredibly smart, but you can also choose from a variety of coloured heatsink covers or go all out with its white and black metal options.
This April will see the launch of the second generation of AMD's Ryzen+ CPUs. Those looking to upgrade can expect power-saving boosts and a slight increase in speed, and they'll even slot straight into your existing motherboard. Even better, AMD's dropping the price of all its current 1000-series CPUs in the run-up to the big day. Yes, everything's still borked by the Spectre flaw, but a bargain's a bargain, right?
Just in case 34in ultrawide monitors weren't enough for you, Nvidia's going all-in on big screen gaming this year with its 65in 4K G-Sync HDR 120Hz 'big format gaming displays'. With a built-in Nvidia Shield streamer as well, you can even play Android games and watch Netflix on them as well. Expect models from Acer, Asus and HP by the end of the year. See our Nvidia BFGD article for more info.
Corsair cut the cables with new suite of wireless peripherals
Corsair went big on wireless at this year's CES, unveiling a keyboard, mouse and mouse mat that are all due out at the end of January. The K63 keyboard has Cherry MX switches and all the RGB gubbins you could wish for, plus a rather tasty 75 hour battery life. The Dark Core RGB wireless mouse, on the other hand, can last 24 hours and has built-in Qi wireless charging - perfect for its new RGB wireless and Bluetooth-enabled MM1000 mouse pad, which also supports Qi charging. Even better, the MM1000 will also charge any Qi-enabled device, like your phone. Juicy...
Kingston's first wireless headset is a battery life beast
Not to be outdone on the peripherals front, Kingston announced their first wireless gaming headset, the HyperX Cloud Flight. With a battery life of up to 30 hours, it's got more endurance than every other gaming headest available today. It's also TeamSpeak and Discord certified and comes with a detachable noise-cancelling microphone and LED lights, and I'll be testing one very shortly, as they're available RIGHT NOW for £140.
EVGA becomes public enemy No.1 with insane 2220W power supply
Just when you thought you'd had enough of cryptocurrency-based GPU price hikes, EVGA go and announce this ridiculous 2200W power supply that can run seven Nvidia GTX 1080 Ti cards at the same time, according to PC Gamer. EVGA couldn't actually demonstrate the Supernova 2200 P2 at the show as it requires a 240V outlet, but crypto-miners are likely to go bananas over this thing.

Steelseries' all-seeing Rival 600 mouse
Look at you sitting there all smug with your single sensor gaming mouse. You think you've got it all, don't you? Well, Steelseries' new Rival 600 is about to put you in your place, as this wired mouse has not one, but TWO sensors for ultimate precision - Steelseries' proprietary TrueMove3 sensor and an optical sensor whose sole purpose in life is to track lift-off distance. Weighing just 96g, you can also customise its balance with its eight 4g weights in up to 256 different combos. How about that for your esports, eh?
Dell's XPS 15 goes convertible with Intel/AMD CPU combo
Intel said earlier this week that both Dell and HP were working on ultra slim devices that would utilise its new Core with Vega M graphics CPUs, and now we know what they are. In Dell's case, it's the rather lovely XPS 15 2-in-1, which is apparently both the most powerful 15in hybrid in the world right now, as well as the smallest and thinnest. Measuring a mere 16mm thick, the new XPS 15 also has a 4K screen and a shiny maglev keyboard that uses the same floating tech as high-speed trains. Needless to say, I'm very much on board with this.
Sennheiser's flagship GSP 600 headset goes all-out on comfort
It's not often I get excited about a new headset, but I'm intrigued by Sennheiser's so-called 'adjustable contact pressure' feature on its fresh-off-the-showfloor GSP 600. As well as being able to adjust the overall size and fit of the headset on the side of the headband, it also looks like you'll be able to use the slider on top of the headset to control how tight it feels. It's also got a brand new ear cup design, new microphone, metal hinges - new everything, basically - and I can't wait to get it in for testing.