2017 Steam Award winners include PUBG, Cuphead & Witcher
Community-voted gongs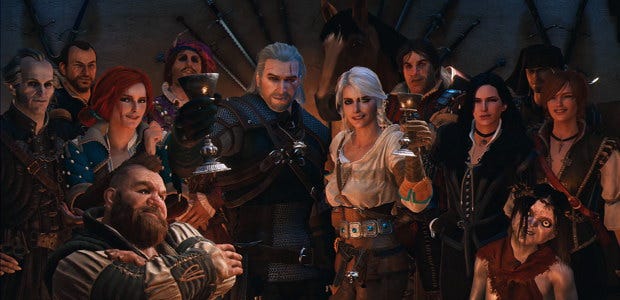 We've already seen which games sold best on Steam last year, but a perhaps more meaningful insight into movin' and a-shakin' in PC-land is the games that people feel warmest and snuggliest about. To that end, Valve have announced the winners of the 2017 Steam Awards, a fully community-voted affair which names the most-loved games across categories including best post-launch support, most player agency, exceeding pre-release expectations and most head-messing-with. Vintage cartoon-themed reflex-tester Cuphead leads the charge with two gongs, but ol' Plunkbat and The Witcher series also do rather well - as do a host of other games from 2017's great and good.
Full winners and runners-up below, with links to our previous coverage of each game if you're so-minded. Plus: I reveal which game I'd have gone for in each category.

The "Choices Matter" Award:
(for the game with the most player agency)
Runners-up: Divinity: Original Sin II; Life Is Strange: Before The Storm; Dishonored 2; The Walking Dead: A New Frontier
My personal pick: Yeah, agreed
The "Mom's Spaghetti" Award:
(for the most intense game)
Runners-up: Resident Evil 7; Alien: Isolation; Outlast 2, The Evil Within 2
My personal pick: Resi 7, or at least the first half thereof.
The "Labor of Love" Award:
(the game with the best post-launch support and new content
Runners-up: Team Fortress 2; Path Of Exile; Crusader Kings II; Titan Quest: Anniversary Edition
My personal pick Maybe Titan Quest? It is genuinely impressive how new life has been wrung out of such an old ARPG.
The "Suspension of Disbelief" Award:
(the game that most successfully makes a ridiculous concept work)
Runners-up: Saints Row IV; South Park: The Fractured But Whole; Goat Simulator; Wolfenstein II: The New Colossus
My pick: Can't argue with that one
The "The World Is Grim Enough Let's Just All Get Along" Award:
(best non-violent game)
Runners-up: Cities: Skylines; To The Moon; ABZU; Slime Rancher
My pick: ABZU. It does have a wee bit of indirect violence in it, but otherwise it is an incomparably calming and beautiful thing.
The "No Apologies" Award:
(the loved despite great flaws prize)
The Witcher: Enhanced Edition Director's Cut
Runners-up: Rust; Mount & Blade: Warband; HuniePop; Gothic II: Gold Edition
My pick: Oh, Gothic. There's a game with spirit.
The "Defies Description" Award:

(the most 'what even is this?' game)
Runners-up: The Stanley Parable; Doki Doki Literature Club; Antichamber; Pony Island
My pick: Pony Island, and the many secrets thereof.
The "Cry Havoc And Let Slip The Dogs Of War" Award:
(the most joyfully chaotic game)
Runners-up: Middle-earth: Shadow Of War; Total War: Warhammer II; Broforce; Red Faction Guerrilla Steam Edition
My pick: Agreed again
The "Haunts My Dreams" Award:
(the game you're most obsessed with)
Counter-Strike: Global Offensive
Runners-up: Dark Souls III; Sid Meier's Civilization VI; Dota 2; Factorio
My pick: Factorio is the game which most took over my entire mind when I played it.
The "Soul Of Vitruvius" Award:
(most visually-impressive character)
Runners-up: NieR: Automata; Hellblade: Senua's Sacrifice; I Am Bread; Bayonetta
My pick: Hellblade is an extraordinary sight, innit?
The "Whoooaaaaaaa, Dude! 2.0" Award:
(head-fuckiest game)
The Evil Within 2
Runners-up:
Hotline Miami 2: Wrong Number; Antichamber; Luna; CPU Invaders
My pick: Too many I've not played there, so I'll sit this one out. [The Evil Within 2's not a BAD pick, but it's not particularly surprising that a sequel to a game about actual mental landscapes collapsing messes with your head a bit -Adam.]
The "Best Soundtrack" Award:
(you can work this one out for yourself)
Runners-up: NieR: Automata; Undertale; Transistor; Crypt of the NecroDancer
My pick: NecroDancer, less in terms of the music itself, and more in terms of how profoundly it melds with the game as a whole.
The "Even Better Than I Expected" Award:
(most exceeded expectations)
Runners-up: Assassin's Creed Origins; Call of Duty: WWII; Hollow Knight; Sonic Mania
My pick: Oranges!
If you find yourself disagreeing with a whole bunch of the above winners, perhaps you'll find something more to your taste in RPS' own best PC games of 2017 picks. Or, if you prefer your games to be more legendary, here are our best PC games of all time. OR if you're looking for things to be excited about rather than things you already know about, here our are picks for the best PC games of 2018.