Best Steam Summer Sale Deals: Day 1
It Begins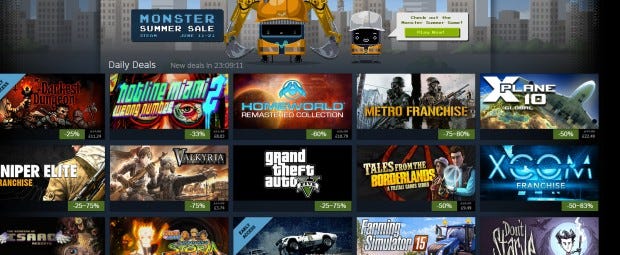 What are the best Steam Summer Sale deals? Each day for the duration of the sale, we'll be offering our picks - based on price, what we like, and what we think more people should play. Read on for the five best deals from day one of the sale.
Oh yes, that great bell tolls once again, ringing an ominous tone. "Bring out your wallets," Gabe Newell's voice suddenly springs from your motherboard's speaker, "pile your cash in my cart and receive your goods." The haunted streets of Steamville fill with fleeing discount symbols, trying to escape the reaping. The dark sky brightens to an impossible blue, the five Suns of Deals scorching the off-green buildings a brilliant white. The city of Seattle floats into view, held aloft by great columns of steam escaping from the valves beneath, speakers endlessly booming: SUMMER IS HERE.
Which is to say, it's time for some cheap games, eh? I'll be rounding up the very best on each day, try to keep you right on this year's set of collect-o-tron minigames, tell you why your Flash Deal vote is wrong and answer the tough questions like where is the narrative of that opening paragraph going. Onwards, to unfinished backlog!
First: the rules. If a game isn't on a daily or flash deal, don't buy it. It will almost inevitably go on one before the end and if it doesn't, you can always pick it up on the last day. Obviously if you must play something NOW NOW NOW, go nuts, but Steam sales are a game in themselves that is usually more fun than about half the 95% off stuff you buy. For an intricate system designed to take your money away and trick you into spending more, it's alright.
5. Hotline Miami 2
33% off: $10.04 / £8.03 / €10.04, Store page
The neon violence simulator sequel which Adam reviewed in March. It expands on the scope and scale of the original, adding characters, a longer plot and a lot more levels. The soundtrack manages to be the best in games, even beating out the predecessor. The hivemind gathered to give a verdict too and you can see everything else we've had to say about the game here. A level editor is coming soon.
4. Binding Of Isaac: Rebirth
50% off: $7.49 / £5.49 / €7.49, Store page
Sequel and remake to the original flash game, Rebirth boasts more everything on top of its predecessor as well as an engine change, meaning it will keep a constant FPS now. It's horrifying, as you've probably just seen from the trailer, but also excellent. Alec gave poopy, dungeon-diving thoughts back in November. An unnamed expansion promises to, uh, expand on all areas of the game again soon, including adding daily runs. Read more about that and our other feelings here.
3. Wreckfest
50% off: $14.99 / £11.49 / €13.99, Store page
From the original developers behind the FlatOut series (but not the bad ones) comes this demolition derby racer that's been chilling out in Early Access since January of last year. If you like crashing cars into other cars, objects, going off ramps - it's a clear choice. It's had a name change since release, from Last Car Game to Wreckfest, but here's what Adam thought before that. All our previous posts are over here.
2. Valkyria Chronicles
75% off: $4.99 / £3.74 / €4.99, Store page
Strategy/RPG hybrid that came out on consoles in 2008 but didn't make the jump to cool kids until late last year. In an alternate World War 2 you control a squad of soldiers from a neutral country that's come under attack for its natural resources. It's got a lovely art style and hero of the people Rich Stanton gave us his thoughts upon release. Want more? The rest of our posts here.
1. XCOM Bundle
80% off: $9.99 / £4.99 / €5.99, Store page
The remake of the 90s classic that recently had its sequel announced. This bundle includes all the relevant DLC, including the large expansion Enemy Within that changes so much about the game it may as well be a separate thing. If you've never touched it before, we'd recommend playing through Enemy Unknown before trying it. It's one of our favourite strategy games ever and you can read what Alec thought of the base game and its expansion. If you want more Alec, he did a whole diary of a run-through. More XCOM? The Long War mod comes highly recommended by everyone, including game designer Jake Solomon who now describes base XCOM as a "20 hour tutorial" for he mod. Meanwhile XCOM 2 is around the corner and Rob Zacny let us know what he wanted from it.
We'll cover the minigames tomorrow, once I've had some time to look at Reddit figure it out. Also, this: