The best VR headset deals: Oculus and HTC discounts
Escape reality with these VR headset discounts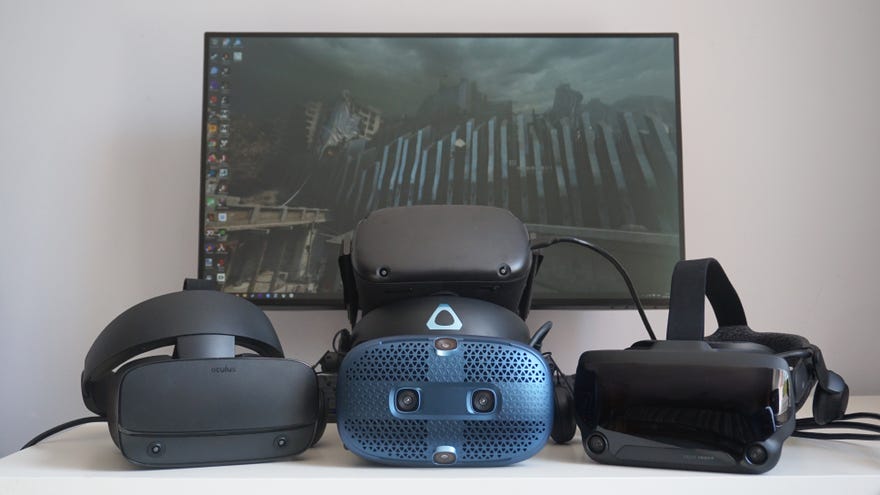 This month's refresh of your guide to the best VR headset deals brings back an old friend. Temporarily, at least: attempts to shift remaining stock of the Oculus Rift S, rest its bones, mean UK denizens can grab one for a lot less than its Oculus Quest 2 successor. There are also some tasty discounts on the HTC Vive Cosmos Elite, both here in Britland and over in the US.
As anyone who's read our best VR headsets list will attest, there aren't actually that many kits designed with PC gaming in mind. Even so, the ones that do exist will get the savings treatment on a fairly regular basis, so don't fret if something you want isn't listed here – there'll be more in time, from the HTC Vive Cosmos range to the Oculus Quest 2. Which Facebook apparently now want us to call the Meta Quest 2 but, uhhhh, let's not. Let's not do that.
What we will do is look at the finest cut-price VR wares around, and should you end up splashing the cash, be sure to consult our list of the best VR games for some playing inspiration.
---
The best VR headset deals (UK):
HTC Vive deals
While I couldn't track down any good offers on the standard Vive Cosmos, HTC themselves have the more advanced Vive Cosmos Elite at a honking great £300 off. That also includes a two-month subscription to the Viveport Infinity service, for access to dozens on VR games. By using external base stations, it's more consistent at tracking movements than all-in-one headsets, and at this price, lacks the huge investment required by other high-end VR kits like the Valve Index.
Oculus deals
Provided you don't mind owning the proverbial last year's model, this clearance sale on the discontinued Oculus Rift S lets you grab a quality VR kit at a knockdown price. Katharine reckoned the Rift S was better than the Vive Cosmos when both of them were new, and in lieu of any Oculus Quest 2 deals, this could be quite the wildcard option. You will need a Facebook account to use it, though.
The best VR headset deals (US):
HTC Vive deals
This isn't part of the same sale that HTC are running in the UK, so this deal involves a smaller saving and no Viveport freebies. Nevertheless, it's good money off one of the more technically proficient VR headsets, and comes with all the controllers and base stations you'll need to get set up.