Better Late Than Never: Dying Light Demo Released
A peek at The Following too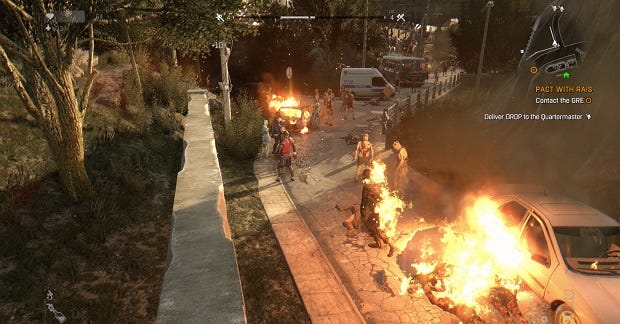 Have you played Dying Light [official site]? Techland's follow-up to Dead Island is pretty good fun, says our Adam. You run and jump and parkour around an open world, killing zombies with guns and fancy knives. If that's your sort of bag, hey, you might fancy playing its demo, which has finally launched on Steam - eight months after the game's initial release.
If you have played Dying Light, you might fancy watching 15 minutes of gameplay from its upcoming expansion The Following, which adds a new area and vehicles.
What's in the demo? Techland explain:
"The demo lets players explore most of the Slums area and offers 3 hours of unique content, including one story quest chain and a number of side quests, challenges, and random encounters. It also features all the core gameplay mechanics of Dying Light, such as the day and night cycle, parkour-based Natural Movement system, creative brutality and crafting. Additionally, the demo supports online co-op mode for up to 4 players."
Okey cokey! Technland still have no word on quite when The Following will launch, but it'll cost $14.99 or come as part of the DLC season pass. Here's a peek at it with developer commentary, archived from a livestream over the weekend: