Videos: Blacksmiths Making Videogame Swords
CLANG!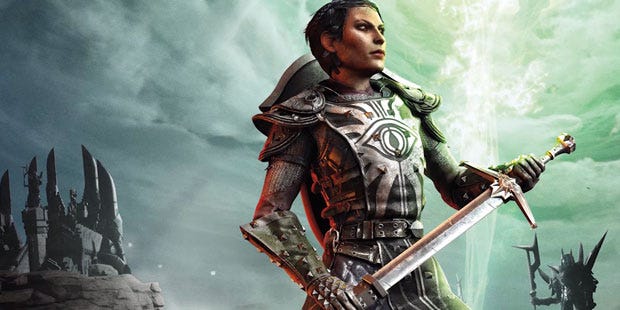 So how about you and I don't tell Graham that I spent a chunk of this morning watching blacksmiths on YouTube as they forged weaponry from videogames, yeah?
It all started with this marketing thingummy from BioWare where they got a local blacksmith called Shawn Cunningham to forge a real life version of the Inquisition Longsword from the Dragon Age-iverse.
I mean, yeah, it's marketing. It's about eyeballs on a thing that's referencing a game. Also it looks like they've added some post-production to one of the spark bits so it looks more... mystical? But aside from that, I find smithing - and indeed anything involving a furnace - fascinating. I think it comes from having visited a lot of glass-blowing workshops as a child (don't ask) and the magic of seeing this familiar material become molten and malleable.
There's a mixture of the fantastical and the scientific in the process - grey powders that turn things a brilliant green or the act of plunging a red spear into an oil quench and it somehow becoming better for it. You can read up on the science of why that works or leave it as this mysterious metallurgy magic. I think I'm somewhere in the middle. I follow it up to a point because I've read up on some of the techniques but once I reach the limits of that I just let the terminology wash over me and watch the thing come into being.
Which is how I then ended up watching Tony Swatton making these glaives of Illidan's from World Of Warcraft. My own interest in Illidan only really resurfaces when I'm imagining him as a WWE wrestler so the lore bit is when I ate a tangerine and put my hair up but the rest is really interesting. You go from rough outlines to sort of hammer-embossing to chiselling to a section involving an edge that can cut you to the bone if you mess up.
I'm also appreciative of how Blizzard have just gone full THIS IS AWESOME HERE HAVE SOME LOUD GUITARS TO UNDERLINE THE FACT. METAL. LOUD. SPARKS. YES. LET ME TELL YOU ABOUT HOW A PLASMA CUTTER CAN CUT THROUGH A HUMAN BODY.
You can then use the warglaive to carve a roast.
Then the Man At Arms team have a crack at forging Master Yi's Ring Sword from League of Legends. This one has a cool section about bronze casting the rings for the sword but also a bit on the complications of working out how the real version of something should look like when you're working from the public game assets. The Men At Arms team are well-known online so this was the video I'd seen before but I might spend lunchtime digging around in their back catalogue to see a bit more:
But, like I say, let's keep this between us, yeah? SHHHHHH.