History With Dragons - Bladestorm: Nightmare On PC
From the Dynasty Warriors folks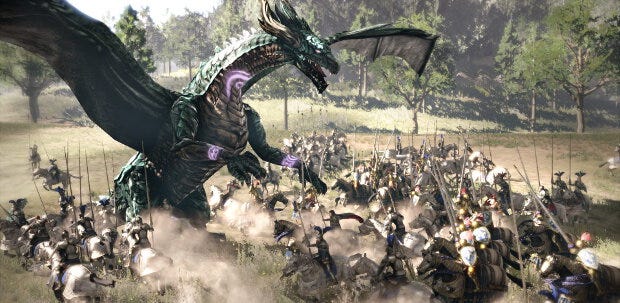 If you've been looking for a goofy fake video game name to use in a joke I'm sure would be hilarious (I believe in you), bad news: the name Bladestorm: Nightmare is taken. On the other hand, if you're looking for a half-historic, half-zany, real-time tactical murderfest from the folks behind Dynasty Warriors, good news: Bladestorm: Nightmare [official site] is coming to PC.
It'll have players lead a mercenary squad through the the Hundred Years' War in one mode, then in another see France and England united to fight dragons. Sure!
Bladestorm: Nightmare is a revamped version of 2007's Bladestorm: The Hundred Years' War, a mostly-historical hack 'n' slash which was only released on consoles. It loosely retold the 14th and 15th century rumble from the perspective of a mercenary squad switching sides, though with unreal moments like being able to save Joan of Arc. This new version takes a few more liberties with recorded history.
Along with the straight story, it has another mode, Nightmare. This sees dragons and monsters rampaging across medieval Europe and yes of course you get to murder them all.
Publishers Temco Koei have been gabbing about Bladestorm: Nightmare for a while, but only announced the PC port yesterday. It's coming to Steam in May. Here, have a trailer: