Blizzard Update Warcraft III For Your Modern OS
Patching a classic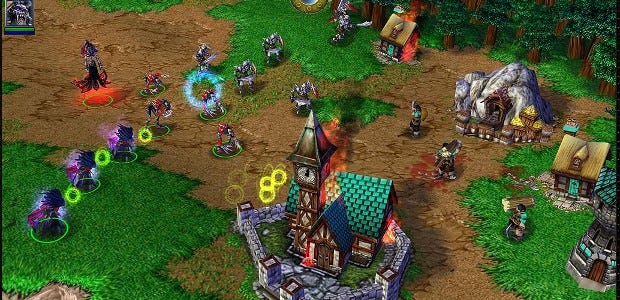 After blowing off the dust from Diablo 2 to make it work more smoothly on modern systems, Blizzard have moved on and polished another one of their classics, 2002's Warcraft 3 [official site]. The patch was released last Tuesday, and the notes promise future updates to the gameplay alongside additional fixes.
RPS would like to offer you this space to take a short break and longingly reminisce about how quickly these 14 years have passed.
The changelog for Patch 1.27a is extremely similar to that of Diablo, focusing on support for Windows 7, 8 and 10 and Mac 10.10 and 10.11, but there are still a few issues to fix, and the patch itself seems to have brought new problems for some. One of the most common issues, missing msvcr120.dll, requires users to reinstall the Microsoft Visual C++ Package.
Mostly though, players on the Blizzard forum and on Reddit have been complaining about the very high ping and huge number of hackers as what really prevents them from enjoying the game. Blizzard have announced that they "are working on a balance change and new map pool" to be released in a future patch, so there is definitely hope that these concerns may be addresses after all. Also, if the rumours were true, it should be Starcraft's turn to get a patch now.
The third Craft of War is the 34th best Strategy Game of all time. Will you be jumping back in for a game? Did you ever leave at all?