Blockham City: Lego Batman 2's Open World Trailerfied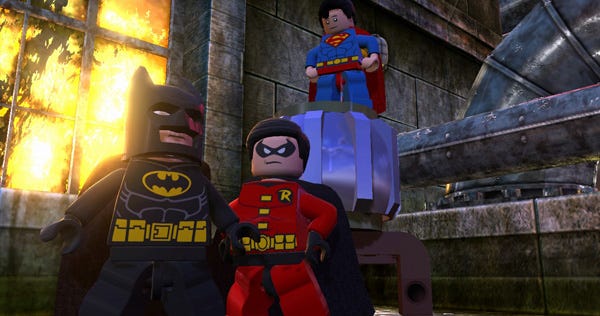 I must admit to having never owned any of the Lego <Insert Crucial Portion Of Your Childhood Here> games, but goodness, this Lego Batman 2 trailer makes a persuasive argument - and not in the traditional Batmanner of hurling me off a two story building and breaking my legs, either. Score! Among other things, it touts a rather astounding 500 square mile open-world city, which looks suitably drenched in rain and atmosphere, given the subject matter. But then a man gets hit with a pie, allowing me to handily sum up everything these games stand for in two sentences. Also on display: Wonder Woman, Green Lantern, The Flash, and the greatest hero of all: spoken words. Also, Superman. Traverse significantly less than 500 square miles to reach the shockingly enticing trailer after the break.
The game's swinging (or flying, or running, or Green-Lantern-ing) into action on June 27. I still harbor fear that fully voiced conversations could kill some of the series' trademark charm, but so far that hasn't been the case. I remain thoroughly delighted and might just go out and buy a heaping ton of themed Legos in anticipation. The games, I mean. Yeah. Because I am An Adult.