Blood Remake For The Blood God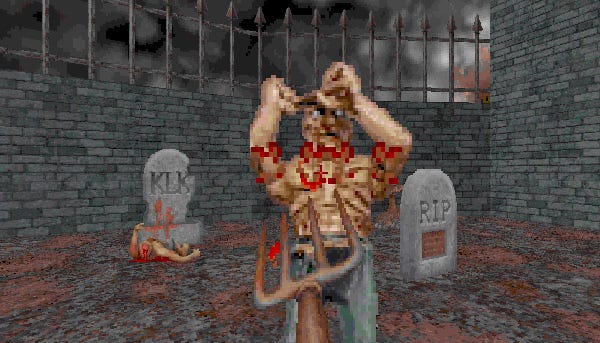 It's been all too long since Monolith did anything that made me want to camp outside their premises waving a banner reading 'I LOVE YOU! YOU MAKE GAMING A BETTER PLACE! NO-ONE LIVES FOREVER FOREVER!' Who knows which staff left, what parts of the company were sold to which other companies, who got cold feet about risk-taking - all I know is that the all-too-ordinary FEAR games make me mourn for what was and what might have been.
At least one Monolither wants to revisit past glories, specifically the reasonably batshit and enthusiastically gruesome Doomlike and horror pastiche Blood. Founder Jace Hall isn't looking to Kickstarter or a reboot, however - he just wants to get the game back into fans' hands with a few modernised bells and whistles attached.

Fan-made Doom graphical/modern OS-friendly update ZDaemon is his point of reference, and he's talking about making this tinkered Blood free despite expecting to spend some funbucks making it. "It will be all for the fun of it", quoth he on Blood fansite The Postmortem.
Apparently the former Monolith man has both the source code and the 'resources' to make this happen, and claims "I certainly will be able to and will get all the support I need from all/any parties that may have legal interest in the game." So the major barrier is interest, apparently. That's a happy situation to be in, I'd have thought.
I've never played Blood myself - what's the word on it in these parts? I did play a not-entirely-legal version of Blood 2 that had half the levels missing, however.
Here's a video of the old thing: