Bloodlines 2's new developers don't want it to fight like Dishonored, and are avoiding keycard quests
The Chinese Room want you to "play with your food", instead
After the closure of original developers Troika, a long-awaited sequel announcement, delays and layoffs at Hardsuit, a secret change of studio (which led to further layoffs at Hardsuit), preorder refunds and the belated reveal that a developer best known for (very good) non-combat narrative experiences would be taking the reins, the only thing I really want to hear about Vampire: The Masquerade Bloodlines 2 is that it's definitely, absolutely going to reach the finish line. There are actual vampires that come back from the dead less often. But I'm piqued nonetheless by Chinese Room studio design director Alex Skidmore's thoughts on how this Seattle-set World of Darkness action-RPG adaptation will differentiate itself from other games in the genre, and especially, how it will put its vampiric premise to use.
"While making decisions about Bloodlines 2, one constant reference is our first game pillar: "Feel like a Vampire"," Skidmore comments in a new Paradox Interactive dev diary. "Everything you do in this game should make you feel like a predator of the night."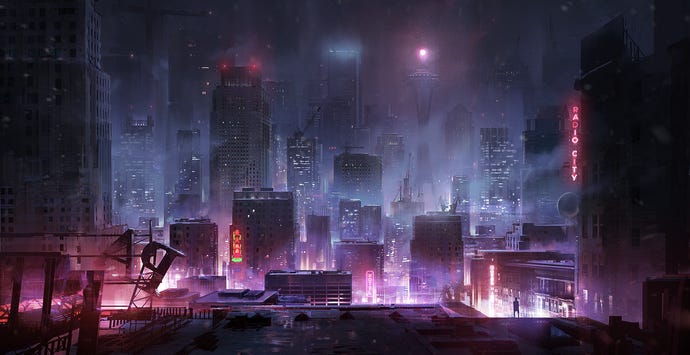 In case you're wondering, The Chinese Room's other two pillars are "Visceral, Immersive Combat" and "Exploring the World of Darkness". Quick aside to any PRs reading: the next time I visit a developer's offices, can you please take me to the room where they keep all of the pillars? I'm picturing a Legacy of Kain-style audience chamber with the banners of different programmer and designer clans dangling from the rafters. But I digress.
"In video games, we often get to be a mighty hero fighting against the darkness," Skidmore continues. "Vampires, especially as playable characters, are underrepresented. We're building the game around the experience of doing things only a Kindred can. With non-combat gameplay, we found early on we were doing the RPG tropes: find a keycard to open a door, turn on a generator to restore power to a lift. We put in a rule that the non-combat gameplay should be about something only a vampire could do; keep it aspirational."
I like the sound of this. Generators and keycards are the province of mortal cattle! We vampires have other ways of meeting our objectives. For context, Hardsuit's interpretation of Bloodlines 2 had you turning to mist so as to pass through vents, and hypnotising regular humies with your undead charms. I'm hoping there are more elaborate techniques to discover deeper in.
Skidmore also shares a bit in the dev diary about The Chinese Room's approach to Bloodlines 2 combat. "It started off playing like Dishonored (which we love), but that didn't feel right for a vampire," he says. "Players were very cautious and afraid of the enemies they encountered.
"To us, a Kindred should stalk its prey and strike fearlessly like a predator. We want to build an action experience where players feel confident, almost trolling the enemies with their disciplines. Testers use the phrase "playing with your food," which we love and illustrates how we think a Vampire: The Masquerade ARPG should feel has come up in playthroughs."
The tl;dr is that The Chinese Room want Bloodlines 2 to be a "confidence fantasy", rather than just a "power fantasy", built around controlling situations rather than using your "supernatural edge and immortality" to barge on through.
You might want to compare and contrast all this with Brendy's thoughts on Hardsuit's version of Bloodlines 2, which is still the broad basis for The Chinese Room's project, though the new developer are taking it in their own direction. The key difference is that the current version casts you as an Elder vampire navigating Seattle's undead politics, rather than a Fledgling getting to grips with their vampire abilities.
In other news, RPS recently published a list of your favourite RPGs of all time, and would you believe, the original Vampire: The Masquerade - Bloodlines made it to number 16.