Boo! is a pumpkin-painting puzzler for spooky month
Argh!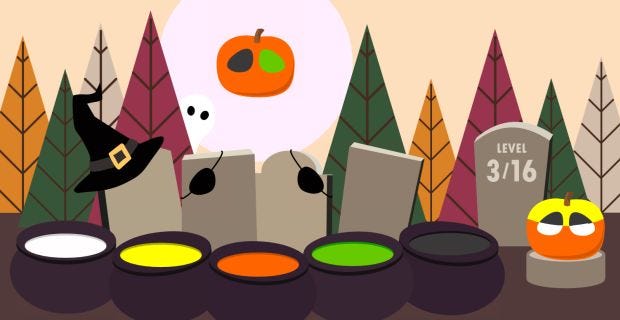 Today the news troughs are suspiciously empty. The cowards of industry know that Destiny 2 is coming out later today and they have, perhaps wisely, scuttled into their development holes to formulate a coping strategy for the first true tempest of the blockbuster season. It's the newscalm before the Destostorm.
To alleviate the stress of having no articles to post, I'm playing Boo! It's a puzzle game about dipping pumpkins in paint.

It's straightforward. You have to match your pumpkin with the patterned one on the right. Dip your spooky vegetable into the cauldrons full o' paint to cover them with a coloured coat, then put on eye patches, hats and other gear to try and create eyes and lines. Uncomplicated, colourful, soothing.
It's by Bart Bonte, who makes lots of small things, usually for mobiles. Thank you Bart for giving me a small distraction in the newsvoid of terror. I must go now. The clouds are gathering, and I also fear what they contain.