Pre-Preview - Borderlands: The Pre-Sequel
To the moon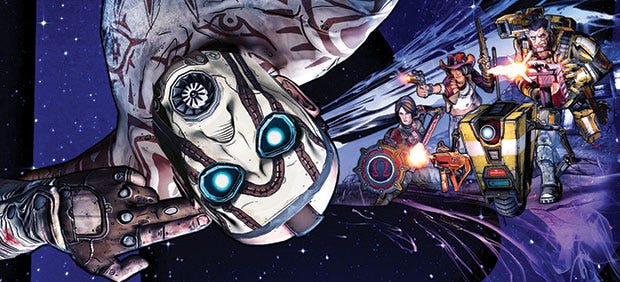 Yesterday I was shown around half an hour of footage from the new Borderlands game, which everyone already knew about as it got leaked on Monday. Here's what it's all about.
I'm pretty sure we're not supposed to take the messy portmanteau 'Pre-Sequel' too seriously, given Borderlands' traditionally derisive-about-everything tone. So while it's playful rather than the latest 'expandalone' or 'freemium' or whatever the latest newspeak horror someone's marketing department has retched up, let's just hope no-one else is inspired by it and we don't find ourselves drowning in pre-sequels by this time next year.
Yes, Borderlands: The Pre-Sequel is a brand-ish new Borderlands game, and due out somewhere around the tail end of this year. More importantly, it's set on the moon and features jetpacks.

However many tongues that weirdo mouthful of a title might have lodged in its cheek, it's also accurate in a bunch of ways. Number one, this is not Borderlands 3, but rather a standalone, full-length expansion for Borderlands 2. Number two, narratively it is set in-between Borderlands and Borderlands 2. Hence, it's a prequel to a sequel. I kind of whish they'd gone with 'Srequel', just to screw with everyone's spellcheck.
For the most part, it seems safe to interpret this as primarily 'more Borderlands 2' - apparently the previous DLC has been very successful, there's been great demand for more, and this is an attempt to meet that with something more significant. There are three major facts to know, however.
1) It is for PC, Xbox 360 and PlayStation 3. That means no new engine, no graphical upgrades to speak of, no element whatsoever of being a next-gen Borderlands. The primarily reason for this, apparently, is that the majority of Borderlands' fanbase is sitting pretty with a last-gen console. More copies of Borderlands 2 have been sold than have Xbones and PS4s combined. Anyway, consoles, whatever.
2) There are four new playable characters, all of which have appeared previously in Borderlands games, and all of which are a brand new class.
3) Most of it is set on the moon. The moon has low gravity and no oxygen. Also everyone gets jetpacks.
Point 3 is where most BTPS most seems to differ from Borderlands 2, and not just because the colour scheme switches to primarily grey-purple. There's a new focus on verticality, at least presuming jetpack sections don't turn out to be prescribed interludes like the exterior sections in Doom 3, as you're shooting from on high, or/and at enemies on high, and with a new Ground Pound ability which allows you wreak massive damage by bottom-plunging onto landlocked foes. As with so many things in Borderlands, items and abilities can alter this so, for instance, it chucks out explosive damage as well, or you can shatter dudes who've been frozen by the new Cryo weapon types. Let's just hope there are some exploding bum-related gags in there, eh?
Further moon-related remixing comes in the form of O2 supplies. You need to keep your tank full, otherwise you'll lose health, and you get to wear a nifty forcefield bubble-helmet, which unfortunately can be popped by gunfire. Fortunately you can do similar to your enemies in order to expedite their deaths. Oxygen pick-ups and generators look to be commonplace though, and really the focus is on the combat potential of the life-giving gas - for instance, let off fire-related weapons within the hitherto safe air bubble put out by a generator and you create a deadly, even explosive orb of flame.
A complication to all of this is that jetpacks use your O2 supply too, so too many mega-jumps and glides across yawning lunar canyons may risk asphyxiation. It'll be interesting to see how those dynamics work across the game, but the raw practility of it is a new meter to join health and shield levels. Even if your jetpack's empty though, exterior moon sections have low-gravity, and that means big, Neil Armstrong jumps. While BTPS looks and sounds inescapably like more Borderlands 2, perhaps the new movement systems means it won't quite feel like it.
It seems to be attempting to push things with its new playable characters too. For starters we've got fan-favourite screechbot Claptrap there, and while Gearbox have as yet revealed little in terms of how he'll play, a low-to-the-ground camera is promised, as are abilties that make up for his teeniness and apparent frailty, and at one point he was wearing a beret like Bill from Left 4 Dead's. Apparently he's the Claptrap first encountered in Borderlands 1, and to be perfectly honest I'm not versed enough in Borderlands lore to grasp whether that makes him The Claptrap or A Claptrap. His class type is termed 'Fragtrap', by the way.
Joining him in the less-archetypal class stakes is Wilhelm, the Enforcer. Wilhelm previously appeared as one of Borderlands 2's earliest bosses, at which point he was a massive, murderous robot. He starts BTPS as very much human, but character upgrades throughout the game will reflect his journey to hulking machine-man. Hopefully this means that playing him will be significantly changing experience, which immediately makes him the most appealing of the new kids to me.
A little more conventional is Athena, the Gladiator, who previously cropped up in the BL1 General Knox DLC. She's a tank/healer whose main ability is an energy shield called the Aspis, which with the right upgrades can absorb incoming damage then hurl it back at the send, or do a Captain America thing and take out multiple smaller foes at once. Another ability turns enemy aggro onto her, so her shield can keep 'em busy while her co-op chums are left unmolested. She has blue hair and says things like "come to momma."
Final semi-newbie Nisha, the Lawbringer wasn't on show yet, but we've previously seen her as the Sheriff of Lynchwood. This makes it highly likely she will be wearing a purple hat in BTPS.
Also returning, as it were, is BL2 baddie Handsome Jack, who here has yet to fall entirely to darkness, and has recruited our four new heroes as part of his quest to regain control of the moonbase he's been recently kicked off. In the half hour or so of footage I saw, they took on a few new enemies straight outta the Borderlands style bible - Lunatics and Scavs and midget variations of them, and some with jetpacks of their own.
It did look faster and bouncier and bigger in scale than Borderlands 2 usually did, and that low gravity means bodies are sent spinning off into space lent a Looney Toons vibe to the furious bloodshed. I tired of Borderlands 2 pretty quickly, to be honest, but potential of the jetpack hi-jinx here has me more interested than I'd expected. Titanfall recently reminded me of how important movement is to a good FPS, so if 2K Australia can pull that side of things off this could be a significant shot in the arm despite not entirely being a 'new' Borderlands game.
Ah yes, 2K Australia. BTPS is described as a co-operation between Gearbox and the 2K in-house dev who also lent a major hand to several BioShocks and the ill-fated XCOM Declassified, with the Australia team apparently taking a lead on this in order to give Gearbox more room to work on other things (including new IP). I have absolutely no idea what that means for BTPS, as we've never really seen a non-Gearbox take on this series before - though Telltale are working on one too, interestingly - but I did note that the dialogue on show didn't seem to have the aggressively manic, machine gun gags of Borderlands 2. I did hear someone say "I put you on ice" when they killed an enemy with ice bullets at one point, but hopefully as a whole the dialogue's going to try harder than that. Unless it was a Batman & Robin reference, of course, in which case all is forgiven.
There you go. Borderlands 2.5, but also Borderlands 1.5. Just not, by any measure, Borderlands 3. It's due out in Autumn/Fall this year, so you're looking at about a six month wait for it.