Morederlands: 87 Bazillion Mins Of Borderlands: Pre-Sequel
Not all mins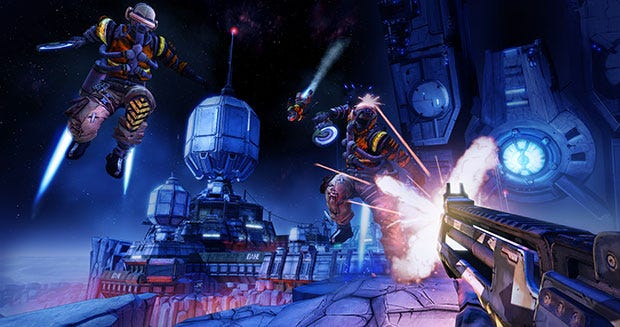 Borderlands: The Pre-Sequel this, Borderlands: The Pre-Sequel that. Personally I'm waiting for Borderlands: The Post-Sequel, which is like regular Borderlands but without lyrics. For now, though, Pre-Sequel looks a fair deal like regular Borderlands, except it's moon-flavored. That means enemies that freeze and shatter, low-gravity airborne (not to be confused with Battleborn) antics, and other such space-defacing shenanigans. Also, you won't actually find 87 bazillion minutes of footage below. Only 14. But close enough.
There are definitely some cool tidbits in there - for instance, the ability to evolve one character into his Borderlands 2 form by picking a certain progression path. I also like the fact that you're not the only one using the lack of gravity as a weapon; enemies can go careening through the un-clouds too - and potentially up and over cover. It's a simple change, but I imagine it will really vary up the pace of combat a lot in places.
This is definitely still Borderlands, though. You need not worry about sudden, whiplash-inducing changes to the basic formula. You still shoot dudes and monsters and Internet references dead, and they drop shiny things to make you even better at making everything else dead. It is, as Mufasa told Simba while they gunned down a bunch of hyena bandits on the sun, the circle of whatever.
Borderlands: The Pre-Sequel will be out on October 14th. One week prior, Dragon Age: Inquisition, Alien: Isolation, Middle-Earth: Shadow of Mordor, and Project Spark will all come out on the same day for some reason. Girdle your wallets, brave RPSfolk. I fear some of us might fall in the Battle For An Extremely Arbitrary Week ahead, but the rest of us will sing their song and append a cryptic subtitle to their name. It's the least we can do.