Braben's Space Head Talks About Elite Multiplayer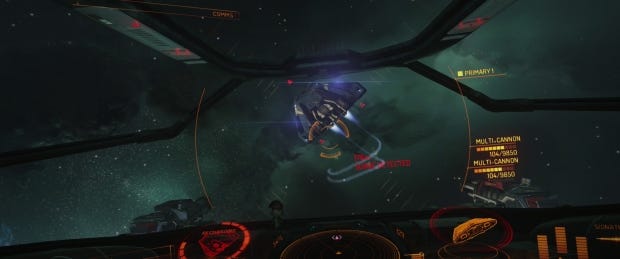 Uncy Dave is back, floating in space. A new Elite: Dangerous dev diary usually gives me a giddy thrill, but ever since I had that brief taste of the alpha, all I can see is a game that I touched and now don't have. It's torture. Watching the new video has only made it worse: there's a small look at the next alpha update, and when it lands it'll bring the first moments of multiplayer. Playing Elite with friends... I have never been this close to spending £200 on a game in all my life.

There's not a lot here, really: just a few shots of the game running side-by-side on monitor at Frontier, but it excites me. It exists! I'll be in there with friends, spacing it up.
*breathes*
Given that there's nothing but combat currently in the game, what's coming will probably be focused on PvP, so it'll be interesting to compare the AI against player capabilities. I was pretty impressed with the evasive movement when I tugged at the joystick. Aside from that, the alpha roadmap is made a little bit clearer, with travel and trading coming after the multiplayer update, then outfitting, and after then that the beta.
I promise if I snap and buy into the multiplayer alpha that I'll pester RPS to let me record some videos for you guys.