BrambleLash offers thorny co-op/betrayal from 13 Sept
Prickly partners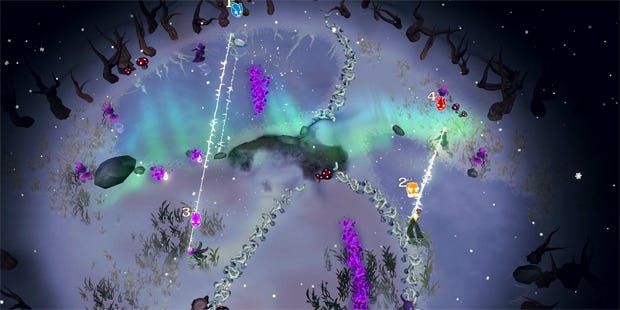 A couple of years after it popped into our ModDB-related consciousness the local multiplayer co-op prickle 'em up, BrambleLash [official site] is coming out on Steam on 13 September. It's come a long way since the 2014 Global Game Jam which spawned the idea:
"BrambleLash is a spritely local multiplayer co-opetition with team swapping action. Enchanted sprites tether together to defeat slimey hordes, whilst plotting the demise of their teammates to get ahead. Connect, co-operate or betray to win!"
The only way of tackling enemies is to clobber them using a thorned tether which stretches between you and another character - I guess it's like being clotheslined using a clothes line covered in spikes? It forces co-op because without that tether you're defenceless.
But, watching the trailer, I got an idea for some of the more intricate moves you can pull off, particularly on a frozen level which seemed to let characters wind around obstacles and spin back out, playing with their momentum. You can also pull your tether partner around, either to save them or to slaughter them.
You can play adventure mode single player, pulling and swapping a totem around, but I did the tutorial that way and I'd say it's not the spirit of the game as you see it in the trailer. I don't have enough people in the house with me to give it a proper go right now (although this is more fuel for the "learn to use a second controller with your feet" fire... or make a friend???).
BrambleLash will be $9.99 - not sure whether the euro or pound amount will be a direct conversion or something wibbly, so have a peek on Wednesday if you're curious.