Brightsiders: Crytek Hires Displaced Darksiders Devs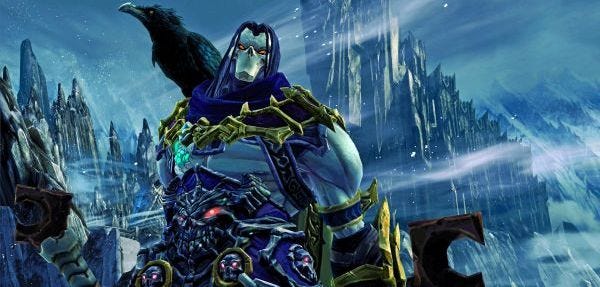 Every dark cloud has a silver lining. It's a delightfully optimistic statement, though in truth, it's not always, well, true. (Note: I mean this in the metaphorical sense. I don't claim to be an expert on clouds' relative silver content, as I still believe they're made of cotton candy.) Case in point: at first, it sure seemed like Darksiders dev Vigil Games would be getting some of said rain in its gothic Death mascara while everyone else found new homes in the wake of THQ's collapse. But now, that dark cloud within a silver-lined dark cloud has found a different silver lining. On the wings of nanosuit-clad angels, Crytek's descended to save the day. Or, well, most of it, anyway.
Former Vigil general manager and co-owner David Adams is leading the newly christened Crytek USA Corp. Employing one of the three adjectives existent in press-release-ese, he explained that he's "thrilled."
"I'm thrilled to be a part of the newest Crytek studio, which will boast some of the brightest development talent in the industry. The studio's launch represents Crytek's commitment to delivering diverse and high quality content to players everywhere."
Adams brings with him 35 former Vigilites, which - sadly - isn't the entire company. Still though, it's the core team, which means Vigil lives on - if not in body, then mind. That said, Darksiders looks to be six-feet-under for the time being. So Crytek told The Escapist: "Crytek USA won't work on a new Darksiders game. At this point in time it is too early to share any future plans."
Which is a bit of a bummer, seeing as Darksiders II really got critics talking. For instance, Rock, Paper, Shotgun's John Walker called it "derivative of just about everything imaginable," but in a good way because he also said it was "absolutely fantastic." Also, some other people said some other things, I guess.
However, in the grand scheme of things, this outcome is still much, much, much preferred over the alternative. So then, Vigil Games is dead. Long live Crytek USA. May its heart be strong, and its Gface whatever Gfaces typically are.