Brilliant: Players Waging Actual War On EVE's Economy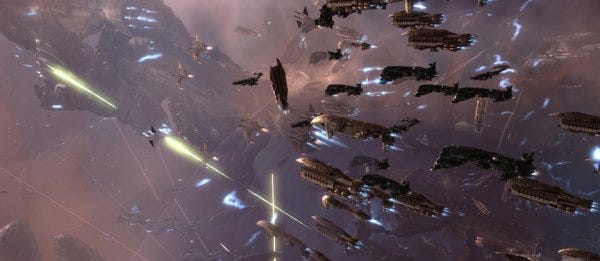 I'm not an EVE player. I know it sucks in some people like a massively multiplayer black hole, but the actual act of playing it has never exerted much of a gravitational pull on my attention. I'm probably dumb. Regardless, though, I can't help but admire the sheer insanity this place constantly generates. Years-in-the-making corporate conspiracies, thousands-strong space battles, the very existence of Dust 514 - it is, at times, nearly unbelievable. Case in point: the ever-mischievous Goonswarm is up to its old tricks again. And by "tricks," I mean bringing an entire economy to its knees. The best part? CCP's totally loving it.
So, the short version: temporarily banned former Council of Stellar Management boss Alexander "The Mittani" Gianturco is leading a 15,000-strong assault on EVE's biggest trade hub, Jita. Thousands of players will suicide-attack industrial ships in the "safe" core systems, ruining trading and blockading the main trade hub area. It's the final, ear-piercing key stroke in a perfectly orchestrated plan involving all sorts of alloy price manipulation before and after the launch of EVE's recent Inferno expansion. Basically, though, players have stockpiled alloy and will now space-skyrocket space-sale prices in space by, you know, literally murdering trade. And, amazingly (in a good way), CCP's not planning to lift a finger in opposition. Senior producer Jon Lander explained to Eurogamer:
"I tell you what, it's going to be fucking brilliant. They're going to do exactly what you're able to do in the game, and people will have to roll with it. It'll be great. We want people to be able to do this. If Goonswarm want to do it, we want them to do it and we want them to have a great time doing it... Last night I got an email - Jita was at 2100. Time dilation kicked in at 15 percent. And there were people just watching the shit that was going down. It was brilliant. It was absolutely great."
Meanwhile, lead game designer Kristoffer Touborg's simply fascinated by the potential outcomes of this absurdly large-scale invasion. At the moment, he sees it as a chance to wipe the slate clean and force players to pull themselves up by their bootstraps again.
"The people they're going to hurt now are people who have quite a lot of security. There's not a lot of turnaround on ships and goods in Empire. I think it might be healthy if we lose a lot of this industrial power, if they have to go back and save up for their ships again and be a part of the cycle of life everyone else is a part of. I don't like complete security, and I do like when a large group of players who live in complete security have that pulled away temporarily. It's going to be healthy."
So, in a word: brilliant. If you'd like to watch the madness unfold, there are roughly a billion livestreams of the galaxy-eclipsing assault. Goodness, though. This is really quite the thing. I may cancel my weekend plans to watch a videogame. What a silly, amazing world we live in.