Build It, They Will Come: TF2 Engie Tease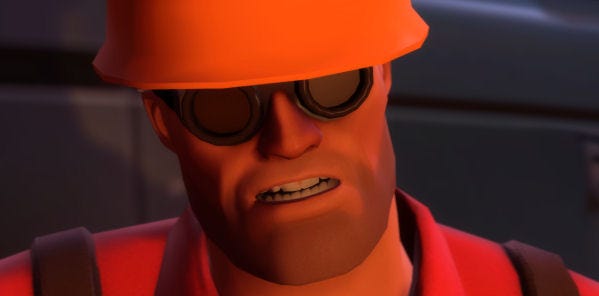 It is Team Fortress news so we must post it because it is Team Fortress news, even in the face of our great despair about what the morrow may bring for the UK. Valve's monopoly on patch-centric gossip remains extraordinary, the presentation alone ensuring gents like us are duty-bound to cover it. This time, it's a teaser for the long-awaited Engineer update...

(Bigger version here).
Which tells us precisely nothing. OR DOES IT?
Our arch-nemeses PC Gamer think otherwise. They've been through the video to a near-psychotic degree, identifying what they reckon are clues. Robot arms! Flamethrowers! Robots! Mysterious domes! Red lights!
Could just be incidental clutter, but big bastard teasers like Valve don't tend to put stuff like this out without hiding an Easter Egg or two. So, what do you think we're in for?