Bulletstorm getting 4K rerelease with Duke Nukem mode
Play the game as Duke Nukem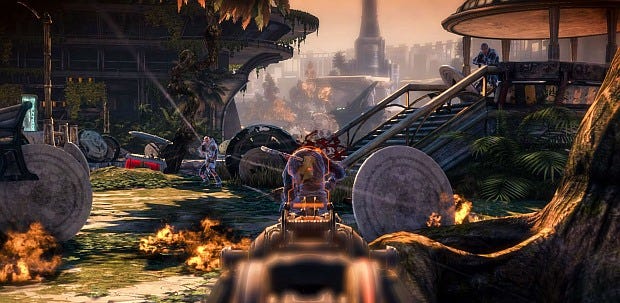 Bulletstorm might not have sold enough copies to ever get a sequel, but the new console generation mean that it's getting the HD treatment. Bulletstorm: Full Clip Edition [official site] promises hi-res textures, increased polygon counts, smoother framerates and support for 4K resolutions, as well as some new levels and modes.
The Full Clip Edition will include the DLC released for the original game, but also a new Overkill campaign mode which lets you start the game with all the weapons and skillshots already unlocked, six new maps for the score attack Echo mode, and... uh, the ability to play through the entire game as Duke Nukem, "featuring a fully rerecorded script and brand-new lines from the original voice of Duke."
My opinion of Bulletstorm has softened with time. When I first played it, I struggled to see past the obnoxiousness of its characters and plot, which seemed to go out of their way to be as unlikable as possible. There's plenty else about the game I enjoyed though and those are the parts the remain more in my memory, including some spectacular level design, fun setpieces, and the ability to basically slide and kick people in the shins indefinitely.
Bulletstorm was critically acclaimed upon release but didn't sell all that well, and developers People Can Fly were acquired outright by co-devleopers Epic Games a year later. Gearbox weren't involved with the original game at all, but they're publishing it this time around. It's due for release on April 7th 2017.