Burning Down The House: Hearthstone Enters Open Beta
Money: The Gathering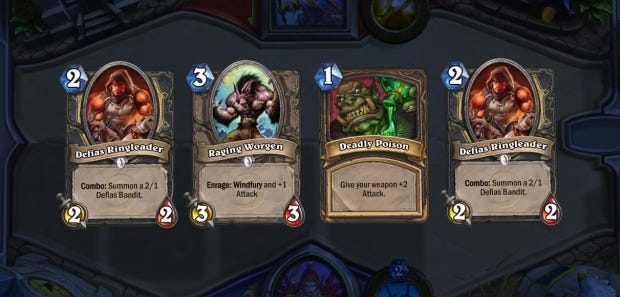 Hearthstone: Heroes of Warcraft is a tremendously dull name for a game, but let's unpick this. The game is the hearthstone, the bottom of a fireplace. The players are the kindling, being rapidly consumed in that fiery furnace. The closed beta is the flames, locked in place so only those lucky enough to have a key can enter.
Only now the fire is spreading. North America has already been consumed, and the rest of the world will fall in "the next few days." Run. Run! Hearthstone has entered open beta.

Hearthstone has been in closed beta since last August, and in that time has been updated so much, and become so popular, that you'd be forgiven for thinking that it's already out. FYI: it wasn't. It is now. Sort of. In the post on the Hearthstone blog, Blizzard stress that the game is still in beta:
Open Beta is still not a final release, and we will be closely monitoring many aspects of the game to ensure a positive play experience for everyone. Please be aware that if smoke starts curling out of our servers due to unexpectedly high demand for Hearthstone, we may have to temporarily disable Open Beta account activations until we're ready to take on more players.
There will be smoke. Sure, Hearthstone might seem like a collectible card game like so many others, but in reality it's a collectible card game with a gryphon that looks at your mouse pointer when you tickle his head. Kieron likes it. Stanton explained how to get the most out of it. Personally I am hoping open beta causes an influx of new, inexperienced players I can actually win a game against. Otherwise it's just me and the gryphon, tickling ourselves happy.
The open beta is good news for gaming websites with fragile servers, as Hearthstone beta key giveaways have already caused smoke to spew from half the internet due to shear ungodly demand. My favourite email on the subject was from a Blizzad PR, who wanted to draw my attention to an email he'd just received from a person who claimed he worked for me. This kid had created their own email signature logo and everything. 'Please can I have a copy of the digital battle wizards'. Nice try.
If you're in North America, go to the Hearthstone site to download the beta now.