Busted: GhostControl Inc Scares Up Funding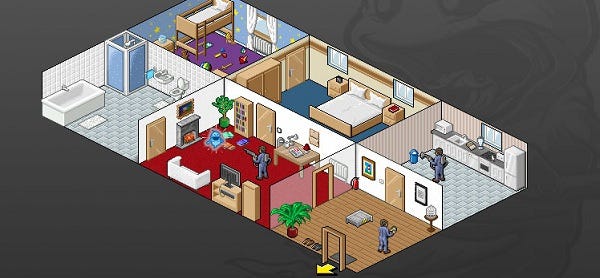 I didn't realise how much I wanted a mash-up of X-COM and Ghostbusters until I saw the Kickstarter page for GhostControl Inc. As soon as I had realised how much I wanted the game, I swiftly came to appreciate the nineties-styled Theme Residence design, particularly as it should make great variety possible. Buildings stitched together from various components, so the game is about exploring the layouts of a fictional London's buildings as much as catching ghosts. Well, maybe the ghosts will take precedence but I do want to spend some time just poking around in those wee houses. The target is a modest £7,500, the pitch video is as daft as a dog on a unicycle and if all goes well it'll be out by September.
I'm not sure whether the greater challenge will be from the spooks or rival ghost hunters, and I'm not opposed to the comedic tone, but I do hope the threat from the enemies is tangible, even if they're not. I want at least one of my crew to have his face melted off by a frightening apparition every now and then. Whatever the case - and hopefully more will be revealed as the campaign continues - this one makes me feel good.