Call Of Cthulhu Videogame - Call of Cthulhu: The Videogame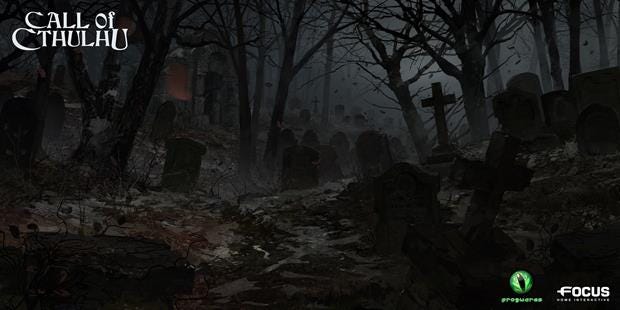 I just can't work out what this product announcement from Focus Interactive is about. It's called 'Call of Cthulhu: The Videogame', which is far too cryptic and oblique to be of any use. What even is it - a book, a game, a film, a museum? And whatever is it about? Jane Eyre? Vampires? Bears? Vampire Jane Bear? WE NEED MORE INFORMATION.
Or perhaps - and I'm taking a wild shot in the dark here - it's a videogame based on Call of Cthulhu? No, you're right, it's too much of a reach.

Amusingly prosaic title aside (though it really is going to prove a mite confusing, given we already have the under-appreciated Call of Cthulhu: Dark Corners of the Earth and Call of Cthulhu: The Wasted Land), precious little has been revealed about the Frogwares-developed title. There's the concept art above and below - which you may click to embiggen - but other than that all we can do is speculate whether it'll be a 3D point'n'click adventure like Frogwares' Sherlock Holmes titles, or explore pastures new.
Whatever it is, I hope it's more about fear and deduction rather than any kind of monster-basher. Ol' HP Lovecraft gets more than his fair share of game homages these days, but most are combat-centric - the original stories are very much not. Let's focus on the protagonists' terrifying loss of sanity, please.