Call of Duty: WW2 open beta starts preloading
Be ready for action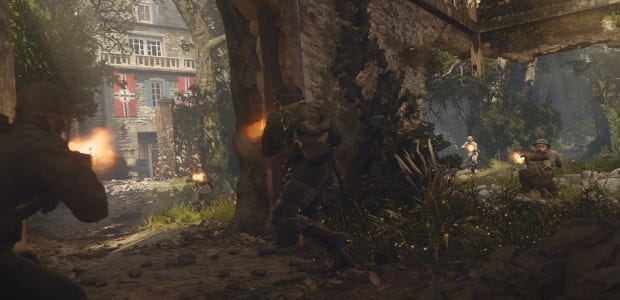 After larking around in the present and future, Call of Duty this year returns to the war that kicked the series off, wrapping modern CoD in the spats and mud of the Second World War. How has that worked out? Well, you can see for yourself this weekend in the free PC open beta test for Call of Duty: WW2 [official site]. The test will begin on Friday but we can now preload the client. It's a 14GB download so you might want to start now if your PC isn't slurping a jackhose ripped to the nines with gigabits to spare.
The open beta will start at 6pm (10am Pacific) on Friday, September 29th, then run until 6pm (again, 10am Pacific) on Monday, October 2nd.
Hit Steam to get the preload rolling. Do be aware that preloading ends on Thursday, so don't leave it to the last minute.
Similar to the console beta, the PC open beta will pack four maps, four multiplayer modes (Team Deathmatch, Domination, Hardpoint, and Kill Confirmed), five Divisions, and players progression with a level cap stretching to 35 over the beta. The devs have tweaked a few things since the console beta, most notably reworking part of the map Aachen.
Several features from the full game will not be in. You won't find HDR support, multi-monitor support, Supply Drops and Loot (cosmetic customisation doodads), and the Headquarters social space where up to 48 warlads will lark about. Also missing, obvs, are the rest of the maps, modes, weapons, and all that.
Hit the announcement for system requirements as well as mention of PC-specific bits including a framerate cap slider stretching to 250fps, field of view options, and ultra-wide monitor support.
CoD: WW2 will launch in full on November 3rd.