Capitalism comes to Fortnite with new vending machines
Military industrial complex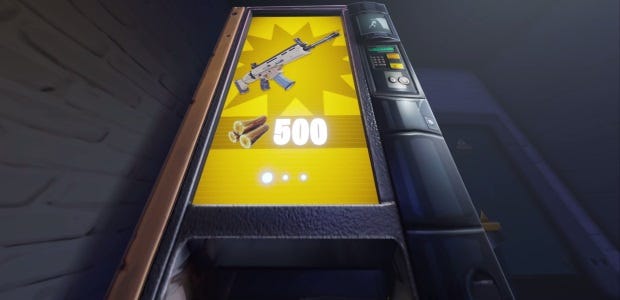 Got a mountain of resources stocked up, but nothing to do with them? Now you can just buy firepower direct as part of Fortnite's v3.4 content update. Vending machines have popped up across the Battle Royale map, ready to accept your scavenged savings in exchange for weaponry on demand, and offering a somewhat more static and predictable new facet to the otherwise chaotic shooter.
It's going to be interesting seeing just how the addition of these vending machines alters the flow of the game. They're placed in static locations, so you'll always be able to find one if you've got a halfway decent sense of direction, but their contents and prices are randomised each match. Every machine contains three items, with the rarity, type and price listed on the big LCD panel door. Every few seconds, they automatically cycle through their inventory, although whacking the machine with your pickaxe will accelerate the process.
Up until now, there's been no reason in the game not to spend all your crafting resources on bizarre improvised fortifications. A common reflex of experienced players is to respond to the sound of incoming gunfire by enclosing yourself in walls, buying you a precious few seconds to identify where the threat is coming from. The addition of weapon shops at least provides some incentive to hold off on panic-building. I'm curious if this will bring any major changes to the flow of your average match, or whether players will just skip on quick and easy capitalist solutions in favour of living off the land and its naturally occurring bounties of anti-personnel weaponry.
One major change that applies to both PvP and co-op versions of the game is the concept of First Shot Accuracy. Most bullet-based weapons will now be pinpoint accurate on your first shot if fired while stationary, though successive shots will still be increasingly inaccurate. To compensate a little for this buff, headshot damage on weapons with First Shot capability has been reduced to 2x, down from 2.5x. Damage falloff at range has also been increased, especially on shorter-barreled weapons like handguns.
This patch also brings a new time-limited event mode to Battle Royale: High Explosives v2 is dumb, loud and messy. All weapons are replaced with explosives (including the new guided missiles and remote bombs), resources are more common and while traps are less abundant, ammo flows like water. It's an excuse to spam rockets at everything, pretty much. Why bother looting a house room by room when you can just level the place? Mercifully, friendly fire is disabled in this mode, for obvious reasons.
The v3.4 update is live now. You can check out the full patch notes here.
Still trying to get to grips with Fortnite? Check out our Fortnite guide hub for more tips and tricks for the game. You can also find the latest challenges in our Fortnite week 6 challenges guide.