Splat-o! Carmageddon: Reincarnation Adds Multiplayer
Smash-o!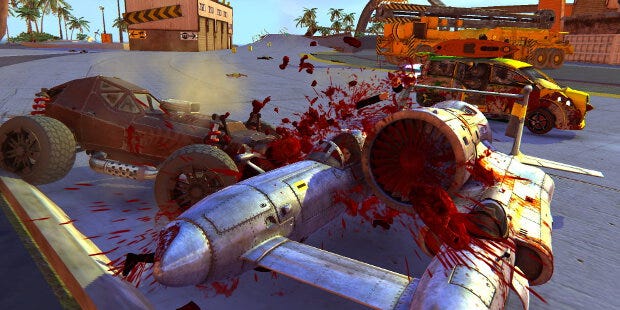 As Carmageddon: Reincarnation [official site] continues to smash, bash, dash, crash, and splash its way through Early Access, it's now reached a point where I'm starting to think about picking it up. Developers Stainless Games today launched the death racer's first beta version, meaning it's now the whole game with all its modes, cars, and levels, just a little unpolished. Yes, this does include multiplayer. Murdering your pals seems a fair enough way to spend Valentine's Day.
Stainless explain that the shift to beta means Reincarnation has career mode, freeplay, and multiplayer, all its wacky modes, and "a full complement" of cars, levels, and arenas. It's still in Early Access, but this is a big step closer to launch. Still expect more patches, more tweaks, and maybe more progress wipes.
Though seeing Reincarnation now has multiplayer makes me think of it as a racing game worth my time, casting my mind back, I don't think I ever played the original Carmageddon in multiplayer. I was always happy enough pootling around levels, exploring and murdering hundreds of innocent people. Having people actually compete and try to win the race would've ruined it all. Though having friends to lark about with would've been grand.
If you're up for it, Carmageddon Reincarnation is £19.99 on Steam, and comes with the original three Carmageddon games thrown in too. Or, you know, you can wait until the game's actually finished, which doesn't seem too far off now.