Castle Crashers Crashes Into Steam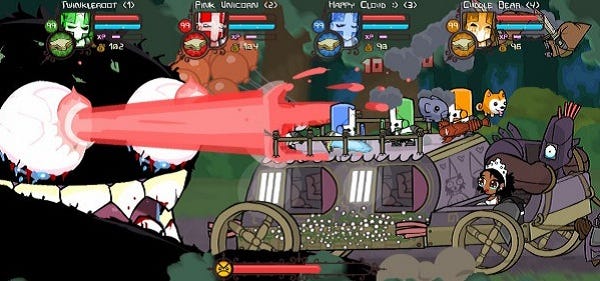 A month ago, The Behemoth announced that – after a mere four years – its co-op bashathon for the ages, Castle Crashers, would finally be getting a PC port. Naturally, I hurled an Xbox (not mine, mind you; that'd be wasteful!) out a window in glee, only to cease my celebratory smashing when I noticed a listed release date of "unknown." Now, though, I can finally resume breaking things, because Castle Crashers has hit Steam.
This version's got everything that made the consolebox versions so special – local co-op and tiny animal balls that loyally float into battle alongside you, mainly – as well as higher resolutions for its gorgeous art, cross-platform multiplayer, Steam Cloud support, and Steam achievements.
It really is quite a special little game. It's also pretty much a perfect validation of Steam Big Picture's existence - at least, insofar as it's a game that I think benefits tremendously from a gigantic television and that most elusive of all videogame peripherals: friends. And, with any luck, success here will mean a wait time of less than 20,000 years for The Behemoth's next game on PC.
You can pick it up now for £11.99, $14.99, or one eight ton limestone disc used as currency only on the island of Yap in the Solomon Islands. So then, will you be giving Castle Crashers a whirl?